Recent Events 2007
December 2007
Saturday December 8th, 2007: Children's book signing 1-3pm
Mid-Coast Maine Children's Book Authors, Stephen Costanza, Belfast, (Mozart Finds a Melody) and Rebekah Raye, of E. Blue Hill, (The Very Best Bed, and Thanks to the Animals) read from their books, tell us about being authors and illustrators, and signed books made available by Fertile Mind Bookshop .
November 2007
Special Screening: "Everything Will Be OK"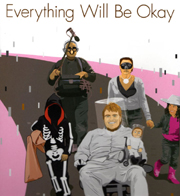 Wednesday November 14 2007 at 6:30pm
In continuation of its on-going film series, Aarhus Gallery was proud to present filmmaker Patrick O'Brien's "Everything Will Be Okay", a series of excerpts from his upcoming documentary film "October 5, 1974".
On May 24th, 2005, Patrick was diagnosed with Amyotrophic Lateral Sclerosis (also known as ALS or Lou Gehrig's disease), a terminal disease that results in the progressive degeneration of the nerves and muscles responsible for voluntary movement. It is a fatal and incurable disease. He was 30 years old. This devastating news did not put a halt to this artist's incredible spirit or productivity. He states, "Over the course of 2006 and 2007 I will document my journey with ALS on 35mm motion picture film. This challenge has given me a focal point to channel my energies, and will hopefully inspire others to keep moving throughtheir own adversities. At this point in my life my intention is to be at peace with myself, and to pursue my life's work of making a feature film about something which reaches for the truth. All of my adult life, I have been making films - films about unconventional characters, stories about vulnerable souls. Now, in the last years of my life, the film I am making, the character I tried so hard to write all these years, the story which eluded me on paper, is unfolding across my body, inside my nervous system, and in front of my eyes. I have become the character in the film which I have been striving to bring to the screen all these years".
The film was shown on Wednesday, November 14, at 6:30 pm.
There was a byob fund-raising party after the film. 100% of the proceeds from this event will go to the Patrick O'Brien Foundation, a non-profit organization dedicated to funding ALS research and artists working creatively to raise awareness.
For more information about the foundation, go to www.patrickobrienfoundation.org.
October 2007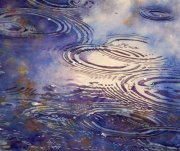 Rebecca Rivers
Showing October 2nd - 28th, 2007
Opening Reception: Friday October 5th 5-8pm
The surprisingly twisted path that I am on, led me to Searsport, Maine 30 years ago. This path has included the Dayton Art Institute in Dayton, Ohio, living near Madrid, Spain for 4 years, having three sons who are my delight, painting classes at UMO with Mike Lewis, a week on Monhegan Island with 12 of my art buddies every year, visiting both islands of New Zealand and skydiving as often as I can. My home has become my sanctuary. I find solace in the quiet peace that living off the beaten path offers. It has been a gift to have the opportunity to wander the Maine shorelines. I am drawn to water, salt or fresh, and my paintings are a joyful answer to that call.
The most recent mixed media and watercolor paintings represent a departure in attitude from what is most comfortable for me. Realistic watercolor has been my medium and style of choice, but within me becoming more insistent, is the urge to let go. My artistic path has led me to the edge. I have fearfully peered over the rim and have longed to step off that edge into the vast unknown. These most recent paintings are a part of the continuing effort of adventure and discovery to artistically step off the edge.
September 2007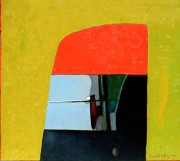 David Estey
Showing September 13th-30th, 2007
Opening Reception: Friday September 14th 5-8pm
David Estey is an award-winning painter/printmaker in Belfast, Maine. He has lived, taught, and exhibited around Baltimore, MD; Philadelphia, PA; Charlotte, NC; and mid-coast Maine. His work includes paintings and prints in a wide variety of styles and media, as well as an abundance of strong, expressive figure drawings in charcoal.
August 2007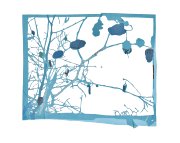 Ben Potter

Ċarhus Gallery presented a selection of work by local artist Ben Potter including paintings, drawings and collage from August 13th-August 26th, 2007. A reception was held August 17th from 5-8 pm as part of Belfast's Friday Art Walks.
Potter , originally from Tennessee, majored in Art and Biology at Williams College, where he was awarded a Mellon Grant for experimental work in the arts, and a Hutchinson fellowship. He received his M.F.A. from the California College of Arts in 1998, and has since exhibited widely in the United States and Europe. Ben taught classes in sculpture, design, photography, drawing and painting in Vermont and Wisconsin before becoming associate professor of art at Unity College in Maine. Ben's art practice stems from his interdisciplinary background, and uses subjects drawn primarily from the sciences as the basis for his formal and conceptual investigations. These 'investigations' may include plastic shopping bags, tin foil or motorcycle helmets.
September 2007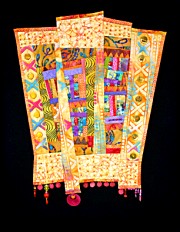 Dianne S Hire

Renowned Colorist Quilter, Dianne S. Hire showed at Aarhus Gallery
A collection of new and fabulous small quilts by Dianne S. Hire was on view at Aarhus Gallery August 28th-September 11th, 2007. To kick off Labor Day Weekend, Aarhus Gallery hosted an Opening Reception Friday August 31st from 5-8pm.
One of the quintessential artists of the art quilt genre lives right here in our own back yard. The nationally recognized, award winning quiltmaker Dianne S. Hire of Northport, will dazzle us with vibrant colors, bold exciting shapes and her outstanding design sense. "I am a colorist who intuitively responds to the joyful way colors intermingle. I require vibrancy to speak but never shout--yet boldly sing" She is at the top of her game with her virtuosity of the medium and the facility to challenge concepts and think outside the square.
August 2007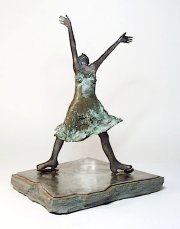 Kris Engman , as a guest artist at Aarhus Gallery July 31st-August 12th 2007, was showing paintings, drawings and bronze sculptures. A reception was held August 3rd from 5-8 pm as part of Belfast's Friday Art Walks.
Kris Engman, a dedicated and talented sculptor, and painter, is an assistant professor of art at the University of Maine in Orono and is also the founder and director of a Belfast based school and community service cultural exchange.
Ms. Engman's figurative sculptures are the basis for her exploration of social and psychological issues. Her work suggests the "... roles and circumstances that define the female place within her culture, community, home... Each is about internal balance common to everyone despite of the fact that the perspective is female". In painting, Ms. Engman places her focus on the relationships of color. This work is the result of a study of light conditions and its effects on color within specific natural environments.
July 2007
Boat Show July 17 through the 29th 2007

In response to the national boat building challenge and the classic small boat show that was held in Belfast July 28, Ċarhus Gallery featured area artists working with boat imagery, both literal and interpretive. Works shown by Guest Artists included; photographs of boats in and out of their element at The Carpenter's Boatshop by Paul McEvoy, the uncompromising sculpture of James Strickland, mixed media on paper by Vincent Abaldo, and an actual 17' Hereshoff row boat hull by the nimble hands of boat builder Steven Florimbi was hung from the ceiling.
Free Seedlings Band CD Release Performance-Party 2007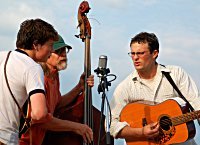 The Free Seedlings, a new and energizing acoustic band playing a buoyant mix of bluegrass, old-time and original songs, announce their new CD Uncommon Kinship with a performance-party Thursday July 26, 2007 at 7:30pm.

The Free Seedlings Band; Bennett Konesni, guitar, fiddle, banjo, David Lewis, guitar and bass, and Jeff Lewis, mandolin, will perform selections from the CD, some new jewels they are working on, and will enjoy celebrating the new release with friends old and new. For a preview visit the band's website: freeseedlingsband.googlepages.com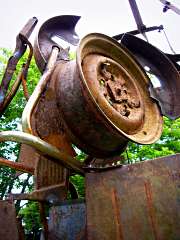 Norman Tinker

Norman Tinker is a sculptor's sculptor. His expressive work is marveled at daily by Miller St. travelers, but it should by all rights be in the Museum of Modern Art. It is that good. Mr Tinker is the real deal; "It is rare I set out to create beauty," he says " but sometimes that happens." Yes , sometimes that happens with work that can be as dogmatic as a dumpster but with a subtle sense of eloquence that creeps in and won't let you go.
Mr. Tinker was a guest artist at Aarhus Gallery from July 3rd-15th 2007, showing a selection of his collage, assemblage and sculptural work. An Opening Reception was held July 6th from 5-8pm as part of Belfast's Friday Art Walk Series.