Recent Events 2008
Åarhus Gallery Annual Holiday Extravaganza
50+ Maine Artists and Craftsmen: 27 days
November 28 - December 24, 2008
Opening Reception, Friday December 5, 5-8pm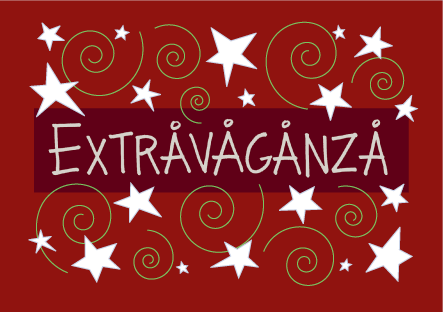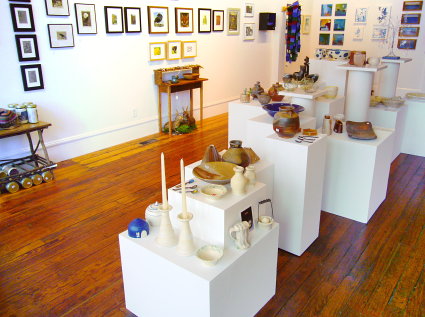 Åarhus EXTRAVAGANZA, runs from November 28 through December 24, 2008 and features creative small works and gifts from over 50 talented Maine Artists in a variety of exciting media including: pottery, etching, painting, collage, photography, woodblock prints, assemblage, fiber, stone, turned wood, cards, calendars, books, ornaments, music and more. A new selection of images from the Glass Plate Archive will be available as well.
Daniel Anselmi
Ed Anthonis
Dan Beckman
Phyllis Buchanan
Liz Deane
Derek DeJoy
George Fowler
Sam Gelber
Rebecca Goodale
Judd Jones
Susan Jones
Michelle Kelly
Joel Lipman
Barbara Maria
Cathy Melio
Alex Morrow
Leila Ostby
Dina Petrillo
Fiona Schubeck
Betsy Showstack
Mike Silverton
Norman Tinker
Simon van der Ven
Seth Whited
Extravaganza Music Nights: Acoustic music for your browsing pleasure!
Aarhus Gallery was open until 8 on Fridays (with refreshments!) from November 28-December 19 2008 and featured live performances by:
Friday November 28th, 2008 6-8pm
Uke of Spaces Corners
Purpousefull pitter patter ocean sky accidents and elastic harmonies. CDs and Tapes available at Aarhus Gallery during EXTRAVAGANZA
CDs: "The Ghastly Grimy Orchestra", and "Uke of Phillips"
Cassettes: "Riff Visitors", "Uke of Phillips, Live on the Phone", "Uke of Spaces, One of a Kind"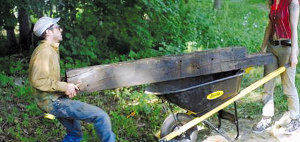 Uke of Spaces Corners
Uke of Spaces Corners on Myspace
December 12th 6-8pm 2008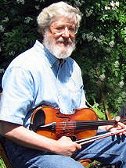 George Fowler
George Fowler (fiddle) and Will Brown (guitar)
Come pick up your copies of The Montville Project Volume I, The Montville Project II (hot off the presses!), and George's solo CD- featuring many famed Belfast area musicians such as Dave and Jeffrey Lewis, Tom and Marian Fowler, and Seth and Tyler Yentes.

The Montville Project
"Over 67 minutes of lively tunes from this quartet of veteran Maine & New Hampshire musicians. A toe-tapping experience for anyone who enjoys this wonderful traditional music and dance form". ~CDSS

Never Better

Come pick up your copies of George's brand new solo CD, "Never Better", (released 12/6/08).
A memoir of George's 30 year musical journey with the fiddle, the CD features Maine and New Endland musical greats;
Nick Apollonio, Will Brown, Art Bryan, Hap Collins, Marian Fowler, Tom Fowler, Bernie Houlahan, David Lewis, Jeffrey Lewis, Hugh McGinnis, Jeremiah McLane, Surya Mitchell, Sharon Pyne, Paul Schaffner, Bill Schubeck, Fiona Schubeck, Jim Stewart, Susanne Ward, Fred White, Seth Yentes and Tyler Yentes.
December 19th 6-8pm 2008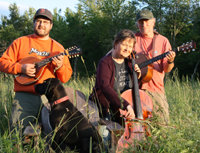 The Kitchenhounds
The Kitchenhounds
Phyllis Buchanan (fiddle, cello), Tom Fowler (mandolin), Jon Kerr (guitar, banjo) Rollicking mix of New England's finest fiddle and dance tunes with an Appalachian twang.
Maine Book Arts Invitational Show
October 21-November 16 2008
Opening Reception: Friday Oct 24th 5-8pm
Daniel Anselmi
Dan Beckman
Susan Brady
Rebecca Goodale
Sherrill Hunnibell
Elizabeth Jabar
Joel Lipman
Betsy Showstack
Karin Spitfire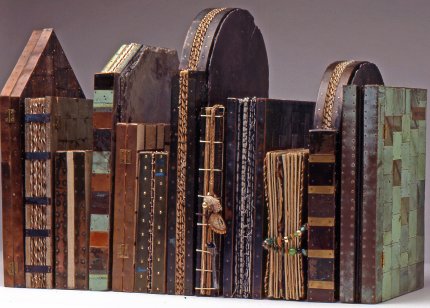 Aarhus Gallery invites the public to the opening reception for their latest group invitational show Friday October 24th from 5-8pm. Artist Books will be featured from 20 Maine and Maine related artist who specialize in the 'book' form. The show runs from October 21- November 16.
This form of creative book arts comes in many articulations and is bound only by the artists' imagination and skill. From the intricate book brooches of Anne-Claude Cotty (Stonington) to the solid cast books of Cat Schwenk (Freeport) or, from the inventive bindings in wood, metal and found objects of Peter Madden (Westbrook) contrasting the delicate traditionally flavoured, scripted pages of amazing calligraphy by Jan Owen (Belfast) and much more, this show is sure to be a page turner.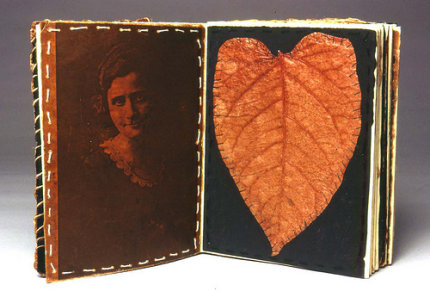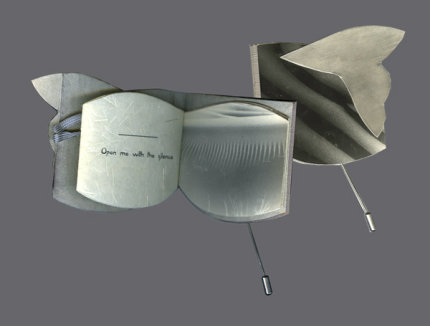 Mike Silverton, Sept 23-Oct 19 2008
Opening October 3rd
"Un ballo in maschera"
The show's title, Un ballo in maschera (A Masked Ball), refers to two small works, and in a broader, metaphorical sense, to a taste for frivolity tempered by occasion and, of course, enigma.
Also showing the work of Kevin Johnson, Mark Kelly, Annadeene K. Fowler, Richard Mann, Wesley Reddick, Willy Reddick, and Maine artisans.
Houseplant
5.5"x 5.5" x 11" Ceramic, metal, wood, fabric, sand, acrylic paint
When Lee and I moved from Brooklyn to Belfast six years ago, the urge to make art graduated from marginal to obsessive. An abundance of materials and the space in which to play with them, perhaps even my age –– if not now, never –– contribute to an explanation. Be that as it may, it's mostly what I'm doing these days.
I was drawn years ago to Dada and Surrealism, especially to Marcel Duchamp's insouciant aesthetic. I've written two cubic yards of poetry, some of which was published in magazines and anthologies, along with a tastefully anorexic chap-book, "Battery Park," published by Russell Edson's Thing Press in 1966. More recently, I narrate "Analogue Smoque" to Tom Hamilton and Al Margolis' musical accompaniment on Pogus 21029-2, a two-CD production issued in 2003. The royalties to date are in the low teens.
In addition to having produced poetry readings for the New School for Social Research, New York's municipal radio station, and the stations of Pacifica Radio, I've written reviews for the most part of modernist classical music on recording for print and Internet publications, including LaFolia.com, of which I am proprietor-editor. I also write about high-end audio.
As to what of mine occupies this fine little gallery, the art must speak for itself.
The 4th Annual Belfast Poetry Festival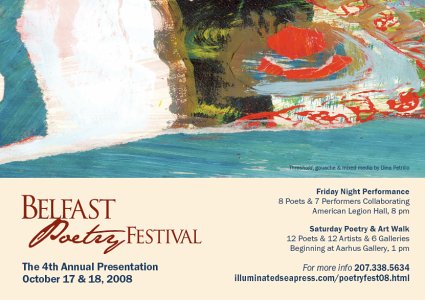 Saturday Oct. 18, 2008
1 pm at Aarhus - Wesley Reddick & Valerie Lawson, Mark Kelly & Mandi Locke, Dina Petrillo & Barbara Maria
Click Here to Download Flyer
Stew Henderson, July 1-20, 2008
Opening Reception, July 4th
Stew Henderson gave a talk about his work, Tuesday July 8th at 7pm.
Statement for Graphica

The Graphica series started as a material driven idea. I had found several roles of commercially printed paper at the local transfer station. This paper with images is the by-product of the stretched fabric industry of Moss Inc. in Belfast. I rolled this paper out on the studio floor and began to cut sections and strips from huge images of corporate logos, car advertisements, abstract designs and other pictures. These fragments served as a background for my painting and linoleum block print designs. The resulting work in Graphica displays a tangible middle space between the my crude hand work and the highly polished imagery produced by a computer driven press.
GRAPHICA #11
Bio

Stew Henderson has been exhibiting his artwork since 1977. He has had numerous one person exhibits throughout Maine including at the Farnsworth Museum in Rockland, Icon Gallery in Brunswick and Waterfall Arts In Belfast. He is represented by the Caldbeck Gallery in Rockland and will be having a solo exhibit there this September. For additional information about Stew Henderson and his work please visit his website at www.stewhenderson.com
GRAPHICA #3
Bennett Konesni and Jeffrey Lewis
Music Performance: Saturday July 5th, 2008 from 7:30-9:30pm
Bennett Konesni, Jeffrey Lewis
Scandinachian or Appalnavian is what fresh duo Bennett Konesni and Jeffrey Lewis call their unique blend of acoustic music, informed by Appalachian, Scandinavian, Work Songs, Bluegrass, Old-Time, Farming, Dancing, and exuberance for life.
Bennett and Jeff have been playing together for half a decade, in combinations such as The Free Seedlings, and Fireside. Both have picked up the ability to play almost any string instrument- and regularly carry a fiddle, a mandolin, two guitars, and two banjos wherever they go. Saturday's performance included a special musical guest.
They gave a concert at Aarhus Gallery, Saturday July 5th, 2008 from 7:30-9:30pm. A $7 suggested donation was collected at the door, and refreshments were served.
Happy Anniversary Aarhus!
Opening Reception, June 6th 2008 from 5-8pm
Some have come to say "Our House", some say 'Are Huss", the Danes say 'Oar hoose" and they mention oh so diplomatically, that it's spelled wrong. The Aarhusians are saying, Wow, it's been a year already, let's celebrate! With glee and many thanks to the community, friends and supporters, the six artists of Aarhus Gallery announce their First Anniversary Show, on the walls June 1-29th, and invite the public to join them for an Opening Reception, June 6th from 5-8pm with more crackers, more cheese, more refreshments and tasty treats.
The merry band of Aarhusians Kevin Johnson, Mark Kelly, Annadeene Konesni, Richard Mann, Wesley Reddick and Willy Reddick will wax poetic with selected works from the engaging previous 12 months and will tinker with new work in the spirit of the traditional and contemporary first anniversary motif; paper and clocks.
"She Rows The Atlantic", sculpture by Wesley Reddick
May 2008
Chaos
May 1-25
Opening reception Friday May 2nd 5-8
"Chaos and War" by Samuel Gelber
Chaos, from the Greek khaos, originally referred to the formless primordial space, the chasm of the great mystery, Einstein may have used the term, 'elsewhere'. For the past few hundred years 'chaos' has been scaled down somewhat and has come to mean disorder, or even just a big mess, 'The dog got hold of a case of prune danish ...CHAOS.' In mathematics, Chaos Theory focuses on how some systems have sensitive dependence on their initial conditions, and may attempt to plot how a butterfly wing flap in central Mexico can ultimately cause a monsoon in India, difficult to understand but the graphics are cool. The artist Sam Gelber says of his 27 foot painting "Chaos and War" , 'It is about violence, patriotism, confrontation, antagonism, blood and politics.' Ten other artists join Sam at Aarhus to grab hold of this worldly word and come up with some chaos of their own; Edward Anthonis, Kenny Cole, Norman Tinker, Seth Whited as well as Åarhus artists Kevin Johnson, Mark Kelly, Annadeene Konesni, Richard Mann, Wesley Reddick, and Willy Reddick.
April 2008
Funny Lookin': A Photography Show
April 3-27
Photographer Richard Benson once said that "funny pictures aren't quite serious" and with this in mind, Aarhus Gallery invites the public to join them for an opening reception on Friday April 4 from 5-8pm as they explore the humorous side of photography. The show will run from April 3-27 and coincides with and is inspired by the Belfast Comic Arts Laugh Festival April 9-13, 2008.
With the long winter, high heating costs and gas prices, 8 years of the Bush Administration, and a recession, we all could use a little levity. Be it odd, ironic, strange, wry or cute, views of a not so serious world can help cure the blues. Funny Lookin' artists include Jason Crain, Derek DeJoy, Sally Dennison, Betsey Feeley, Greg Morley, Alex Morrow, Georges Nashan, Eben Ostby, Jan Rosenbaum and Mat Thorne, as well as Åarhus artists Kevin Johnson, Mark Kelly, Annadeene Konesni, Richard Mann, Wesley Reddick, and Willy Reddick.
"Lost Person Area" by Kevin Johnson
Hope Hoffman and Kittlish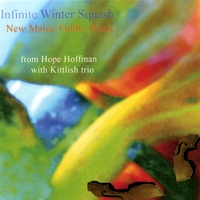 Saturday April 19th, 2008 7-9pm
Hope Hoffman and Kittlish
"Original & traditional fiddle tunes and songs"
Their new CD, Infinite Winter Squash: New Maine Fiddle Music will be available
$7 suggested donation at the door
Hope Hoffman and her band, Kittlish, present her original fiddle and viola tunes, often-comic storytelling about the farming, winterizing and neighborly adventures which inspire them, and a rhythmic and lyrical repertoire of traditional Irish, Scottish, French Canadian, English and Scandinavian music.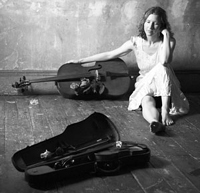 Hope's musical style on fiddle, viola and voice is noted for its evocative beauty & rough-and-tumble playfulness, with influences including Maine dance fiddlers and early music. With a lifetime of experience as a writer, actress and dancer, Hope has been a professional musician in New England for several years, and is known for her warm and personable performances from Presque Isle to Manhattan.
Hugh McGinness is a regular performer on cittern, guitar, banjo, jaw harp, etc. He is also one third of the Irish trio Feckless, with George Fowler on fiddle and Susanne Ward on pipes.
Larry Burkett accompanies traditional fiddle players on guitar, including Fiddle-iscious and occasionally the Don Roy Trio.
Listen
March 2008
Åarhus Gallery views "Architectura"
Åarhus Gallery held an opening reception on Friday March 7th, 2008 from 5-8pm as the gallery took a broad look at architecture with their show Architectura March 6th-30th 2008.
Architectura draws from Maine artists working in forms from collage and painting, to constructions, models, drawing and photography. Artists include Daniel Anselmi, Mary Baldwin Collins, Thomas Michael Corcoran, Jason Crain, Larason Guthrie, Blake Hendrickson, Greg Morley, Alison Rector, James Strickland, and David Wright, as well as Åarhus artists Kevin Johnson, Mark Kelly, Annadeene Konesni, Richard Mann, Wesley Reddick, and Willy Reddick.
Theater by Alison Rector


The Academy(detail) by Daniel Anselmi
The Yentes Brothers Duo, in concert, March 2008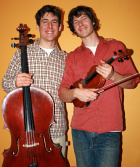 Friday March 21, 7-9pm.
$5 suggested donation at the door.
The Yentes Brothers Duo brought the house down while providing celebratory music for our Extravaganza in December. We are thrilled to have the eclectic duo back for a full concert!
With Seth on Cello, and Tyler on violin, these gents expertly sample classical, original, traditional, and old time tunes- and together create a clear and hearty sound.
February 2008
LOVE
February 1-March 2, 2008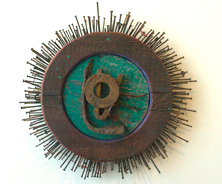 Plato described love as the desire for the perpetual possession of the good, a few years later, J Giles said love stinks. Who's to say for sure what love is, or what color it is for that matter. Aarhus hopes to shed some light on the subject.
An opening reception was held Friday February 1st, from 5-8pm.
Artists include
Judd Jones,
Betsy Levine,
Greg Morley,
Ben Potter,
James Strickland,
Norman Tinker,
as well as Aarhus artists Kevin Johnson,
and Willy Reddick.
Rural Electric, February 16th, 2008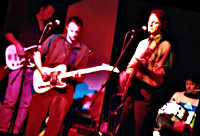 On Saturday February 16th, Belfast-based Rural Electric, performed at Aarhus gallery from 7:30-9:30. This hard working, local, guitar-wielding fuzz-folk, original independent rock band deals with everything from love and politics to nature. The band is a virtual vernal pool of four talented musicians, Andy Vietze (guitar, vocals, park ranger), Alan Gibson (guitar, keyboard, vocals, green builder), Andrew Carpenter (baritone, bass, guitar, soil scientist), and Eric Sanders (drums, assistant VP Bank of America). Their second album 'The Road to Hell is Paved' was released last year to much acclaim.