Recent Events 2011
5th Annual EXTRAVAGANZA



November 4th- December 24
Opening Reception November 4th, 5-8pm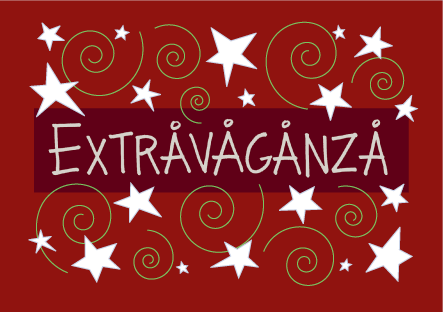 Aarhus Gallery announces its Holiday Extravaganza small works show with 70+ Maine Artists, Craftsmen, Poets and Musicians: 51 days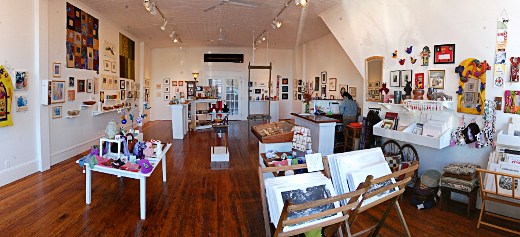 Panorama photo by Al Arthur
The annual HOLIDAY EXTRAVAGANZA kicks off early again this year and runs from November 4th through December 24th. This jam-packed show features smaller artworks and a wide range of creative craftwork priced with gift giving in mind. Over 60 talented Maine artists from throughout the midcoast are represented in a dazzling variety of mediums, including pottery, poetry and painting, collage, etching and photography, woodblock prints, turned wood, fiber, assemblage, cards, calendars, ornaments, new Glass Plate images, jewelry, music, chocolates and more!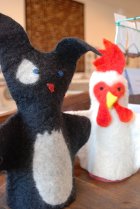 Felt Puppets by Mia Kanazawa from Extravaganza 2010
Artists who have shown at Aarhus over the past year will be featured, along with some newcomers and the usual Aarhus partners. Artists include Vincent Abaldo, Katia Ancona, Suzanne Anderson, Jes Anthonis, Bernice Arthur, Kate Bauman, Dan Beckman, Jolene Bryant, Phyllis Buchanan, Michael Buckley, Nancy Buckley, Linda Buckmaster, Anne-Claude Cotty, Mj Viano Crowe, Heidi Daub, Bill Davis, Dean's Sweets, James Deane, Liz Deane, Gabriella D'Italia, Ingrid Ellison, Carole Ann Fer, Sallie Findlay, Kathleen Newton Foote, Annadeene Fowler, George Fowler, Free Seedlings Band, Elizabeth Garber, Harold Garde, Carol Gater, Edith Gawler and Bennett Konesni, Gawler Sisters, Jay Gibson, Ellen Goldsmith, Frances Hodsdon, David Jacobson, Jeffrey Jelenfy, Karen Jelenfy, Kevin Johnson, Jody Johnstone, Judd Jones, Paul Jurutka, Mia Kanazawa, Mark Kelly, Michelle Kelly, A. C. Kulik, Valerie Lawson, Betsy Levine, Joel Lipman, Carol Logie, Richard Mann, Barbara Maria, John McAlevey, Kate McLeod, Holly Meade, Cathy Melio, Jonathan Mess, Metaphor Bronze, The Montville Project, Hanako Nakazato, Nire Art, Novel Jazz, Petrea Noyes, Toki Oshima, Leila Ostby, Dina Petrillo, Ben Potter, Rebekah Raye, Abbie Read, Wesley Reddick, Willy Reddick, R. Keith Rendall, Judy Rock, Betty Schopmeyer, Erin Seegers, Lesia Sochor, Karin Spitfire, Prairie Stuart-Wolff, Sarah Szwajkos, Tandem Glass, Ieva Tatarsky, Mary Trotochaud, Troy Howard Middle School Garden Project, Nance Trueworthy, Larry Unger, Walter Ungerer, Simon van der Ven, Glen Veevaert, John Vincent, Ellen Wieske, J. Fred Woell, Seth and Tyler Yentes.
Evening of Chocolate Tasting and Music at Åarhus Gallery



Friday, December 2nd, 5-7pm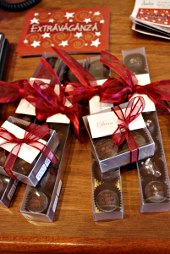 Dean's Sweets Maine Made Chocolates
On December 2nd from 5-7pm please join Åarhus for an evening of chocolate tasting, browsing music, and conviviality. Dean's Sweets, makers of delicious hand-dipped truffles and chocolate bars, and winner of a 2011 Best of Portland Award, will provide samples of their chocolates as the hip solo piano of Tom Luther calms the mind to take in the Extravaganza of small artworks and crafts assembled for a localvore's gift giving plea...sure! Tom's keyboard will spice up the nooks and crannies with original compositions, classical and other urbane razzamatazz and Dean's Sweets will tantalize your taste buds at the tasting table with a sample of chocolate, everyone's favorite Sea Salt Caramel truffles and new chocolate bars including Brandied Orange Peel, Mocha Latte, and Maine Potato Chip. Yum.
The Earthly and the Ethereal, Pat Plourde and Prairie Stuart-Wolff
Pat Plourde
Prairie Stuart-Wolff
October 4-October 30, 2011
Opening Reception Friday October 7, 5-8pm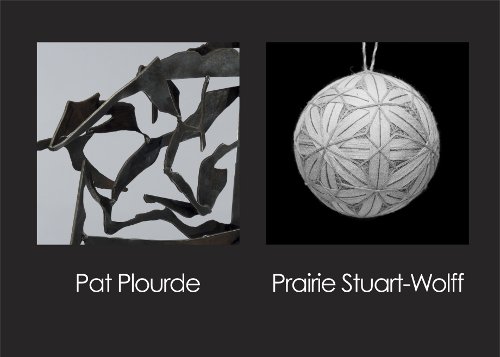 Pat Plourde, Bayside Landscape, Cut and Welded Steel (detail)
Prairie Stuart-Wolff, Untitled Orb 28, varnished pigment print
In an attempt to find a balance of the earthly and the ethereal, Åarhus Gallery is pleased to have two guest artists for the month of October, sculptor Pat Plourde and photographer Prairie Stuart-Wolff. The show runs from October 4th through the 30th, 2011. Please join us for an opening reception Friday October 7th, 5-8pm.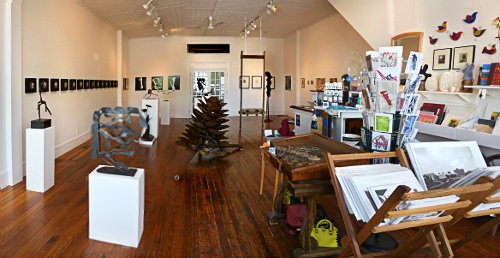 Installation View
Pat Plourde's work should look familiar to you. If not…. maybe you should get out more. But chances are you've seen it or even sat on it and not known it. He has specialized in studio furniture, sculpture, railings, lighting, and custom residential and commercial furniture in steel and vintage wood for over 25 years, and has designed and built fixtures for nationally known retailers such as L.L.Bean, Timberland, and Whole Foods Markets as well as for several fine restaurants in Portland and the surrounding area. His work has also appeared in Architectural Digest, Log Home Designs, Fine Homebuilding, and Maine Home and Design. He lives and works in New Gloucester, Maine.
Prairie Stuart-Wolff's work may be another matter… and there's a good reason you may have not chanced upon her photographs, unless you live somewhat west of here. Prairie admits, "To date, I have primarily exhibited my work in Japan, both in art gallery settings and in design showrooms." Prairie's images are graceful, fragile, airy, ethereal, "Though I am dedicated to the photographic traditions of film capture and silver gelatin or platinum/palladium printing for my work, I've also embraced digital innovations and find that the two processes are best treated as collaborators, not competitors… I probe for clues about the intangible designs behind the tangible world. But I never seek answers. It's the wondering that keeps me interested." Prairie attended the Salt Institute in Portland and the Maine Media Workshops in Rockport. She divides her time between Union, Maine and Japan.
Along with these two fine guest artists, the work of Aarhusians; Kevin Johnson, Mark Kelly, Richard Mann, Abbie Read, Wesley Reddick and Willy Reddick will also be on view.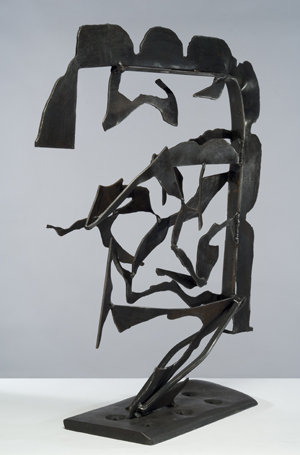 Pat Plourde
Bayside Landscape
2010
cut and welded steel
21"W X 6"D X 24"H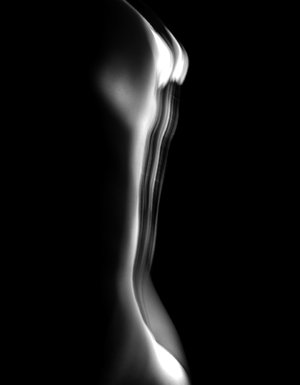 Prairie Stuart-Wolff
Light Drawing
varnished silver gelatin print
20" x 24"
patplourds.com
prairiesturtwolff.com
Belfast Poetry Festival



October 15th
The 7th Annual Belfast Poetry Festival, 2011

Eight poets & eight visual artists participate in the 7th Annual Belfast Poetry Festival October 14 and 15, 2011 in downtown Belfast, Maine.
One of the only community-based, non-academic poetry festivals in the country, the event features established, professionally recognized poets and artists from throughout Maine along with emerging poets to create a lively mix.
A unique feature of the Festival all six years has been the Gallery Walk, in which the audience moves among four downtown galleries to view the collaborative exhibits by artist/poet teams and hear the accompanying poetry.
Schedule & Details
First Friday October 7, 5–8pm: Poetry and Art Gallery Openings
Friday, Oct 14, 7pm: Gammons Room of the Belfast Free Library
An Evening with Maine Poet Laureate Wes McNair.
Also — Winner of the Maine Postmark Poetry Contest and Belfast Poet Laureate, Jacob Fricke with saxophonist Alan Crichton.
Saturday, Oct 15: Art & Poetry Gallery Walk
10am – 12pm: Belfast Free Library
Writing Workshop with Arielle Greenberg
1–2:15pm: Gallery Walk Begins at Aarhus
Poet Richard Miles with Artist Ingrid Ellison
Megan Grumbling with Dan Beckman
2:15–4pm: Belfast Free Library
Poet Carey Salerno with Artist Sally Faulkner
Poet Christian Barter with Artist Russell Kahn
Poet Carolyn Locke with Artist Kathy Pollard
Poet Robert Shetterly with Artist Judy Taylor
4:30–7pm: Waterfall Arts
Poet Elisabeth Benjamin with Artist Anna Strickland
Poet Molly McDonald with Artist Maryjean Viano Crowe
Poet Ira Sadoff with Artist Barbara Andrus
5:30–6:30: Reception
6:30–7pm: Closing "Call & Response" Reading (open to all)

The Belfast Poetry Festival is co-sponsored by the Maine
Writers and Publishers Alliance.
Cinder Conk



Saturday, October 22
7:30pm
$10 Suggested Donation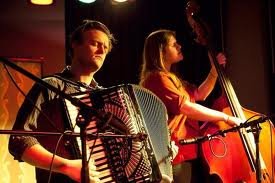 Åarhus Gallery is excited to welcome back the nuanced raucous Balkan/Gypsy folk dance music and the multidimensional Yiddish celebration anthems of Cinder Conk, Saturday, October 22nd at 7:30.
The duo has shared the stage with such entities as Beat Circus, The Toughcats, Slavic Soul Party and has wowed a packed house at Åarhus Gallery during the First Annual Free Range Music Festival.
Though intrigued and inspired by the rousing traditions of Gypsy/Roma cultures and Eastern European folk music, Cinder Conk is wholeheartedly Midcoastian. Matthew Schreiber is a nimble fingered accordion activist and his own compositions are stunning and affecting achievements in Mathew's commitment to promoting spiritual development through free-reed music. Xar Adelberg is an orthodox bullfiddle pilot committed to a musical revolution.
Suggested donation $10, light refreshments will be served.
Gunpowder and firework drawings of Mark Kelly
August 30-Oct 2, 2011
Opening Reception Friday September 2, 5-8pm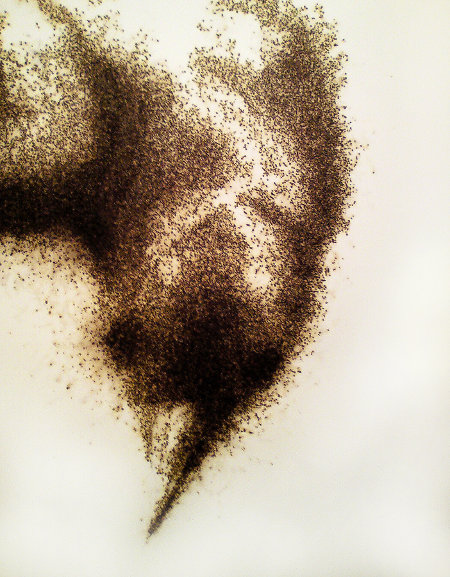 Blackbird
22x30
gunpowder on paper
Åarhus Gallery is pleased to have one of their own, Mark Kelly, as their guest artist for the month of September. For years now, Mark has been inspiring, amusing and wowing viewers with his unique sensibilities and at times pointed, maybe ominous observations on the human condition. The partners at Åarhus figured that it was high time they had a partner as a featured artist and it seemed natural for Mark to be the first. This show runs from August 30th through October 2nd, 2011and the public is invited to an opening reception Friday September 2nd, 5-8pm.
He will be showing two separate bodies of work. First, a series of gunpowder drawings, which are made by setting up the gunpowder, like sand-drawings, and lighting them on fire. "What I am trying to do is control these tiny explosions - which is (I realized after starting them) a perfect metaphor for human existence; trying to control the chaos of life after the penultimate explosion..."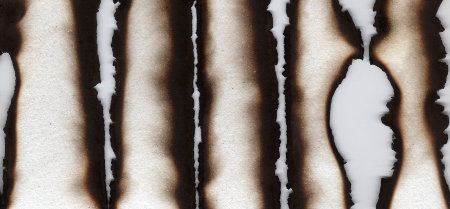 Chance Drawing (Sparklers)
Burn Marks on Paper
2011
The second body of work is a series of fireworks drawings, in which he says he is "...simply experimenting. Laying the works on paper and capturing the results of the explosions. With these I am relinquishing the control I strive for in the other works - allowing the chaos to happen, without my imposition."

Photo documentation of the work process.
The issue Mark finds himself dealing with in this work is the balance in life between trying to find peace by controlling (to some degree) the chaos, and finding peace by knowing when to let the chaos happen, and appreciating what is there.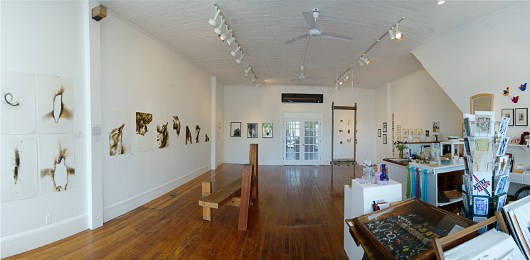 Gallery View
Born in Amityville, New York, Mark moved to Boston in 1990, and earned his BFA from the Massachusetts College of Art in 1997. Besides showing regularly as a partner at Åarhus gallery, Mark's exhibitions include: The 18th Annual Drawing Show at the Boston Center for the Arts/Mills Gallery; The Lincoln Street Center for the Arts 2005 Invitational, Rockland; The Out of Bounds Altered Book Show, Rockport; First Traces, Center for Maine Contemporary Art, Rockport, ME and The Crossing of Time and Environment: Micro Installation, Tainan County, Taiwan. He lives in Belfast with his wife Michelle and their three daughters.
Showing with Mark will be Åarhusians; Annadeene Fowler, Kevin Johnson, Richard Mann, Abbie Read, Wesley Reddick and Willy Reddick.



Belfast artist experiments with fire
By Aislinn Sarnacki
Book Reading: Somalis in Maine: Crossing Cultural Currents
Friday, September 9th from 6:30-8:00 pm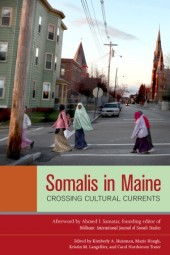 Aarhus Gallery is pleased to host a book reading by the four editors of Somalis in Maine: Crossing Cultural Currents on Friday, September 9th from 6:30-8:00 pm. Refreshments and a question and answer discussion will follow the reading.
Somalis have attracted attention nearly everywhere the global diaspora has taken them. For example, in early 2001, Lewiston, Maine, experienced an unexpected influx of Somali refugees, catching many residents by surprise. Tensions ensued and Lewiston became a site of national and international media attention in 2002 when the mayor wrote an open letter in the newspaper asking Somalis to stop coming. The Somali Narrative Project at the University of Maine was established in 2004 to address some of the challenges and tensions of Somali refugee resettlement in Lewiston. The collaborative and interdisciplinary project involves Somali students, Somali community members in Lewiston, and the four faculty members who edited the book: Belfast resident Kim Huisman, Associate Professor of Sociology; Mazie Hough, Associate Director of Women's Studies and Assistant Professor in History; Carol Toner, Director of the Maine Studies Program and Research Associate in History; and Kristin Langellier, Professor of Communication and Journalism.
Somalis in Maine offers a kaleidoscope of voices that situate the story of Somalis' migration to Lewiston within a larger cultural narrative. Combining academic analysis with refugees' personal stories, this anthology includes reflections on leaving Somalia, living in refugee camps, the experiences of Somali youth in U.S. schools, the reasons for Somali secondary migration to Lewiston, the employment of many Lewiston Somalis at Maine icon L. L. Bean, and community dialogues with white Mainers. Somalis in Maine seeks to counter stereotypes of refugees as being socially dependent and unable to acculturate, to convey the richness and diversity of Somali culture, and to contribute to a greater understanding of the intertwined futures of Somalis and Americans.
The event is free and open to the public. Books will be available for purchase.
R. Keith Rendall
August 2-28, 2011
Opening Reception Friday August 5, 5-8pm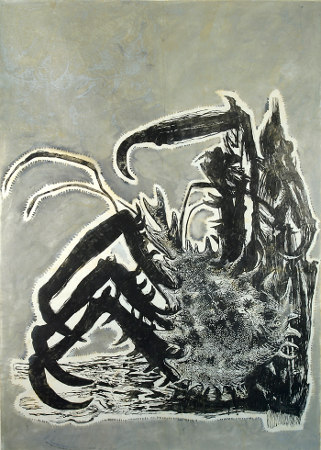 R. Keith Rendall
Spiny Crab
Woodcut (tinted inks, transparent washes and mica on Okawara paper).
67"x48"
Åarhus Gallery is pleased to have Wiscasset printmaker R. Keith Rendall as their guest artist for the month of August. The show runs from August 2nd through the 28th, 2011. Please join us for an opening reception Friday August 5th, 5-8pm.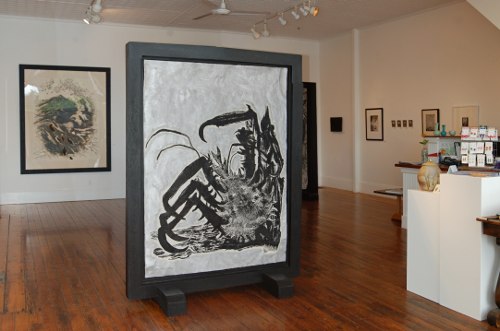 Educated at Kenyon College, he ventured from pre-med into the fine arts, ultimately receiving Kenyon College's two highest awards. Other awards include the Leadership in the Arts, from the Maine College of Art. Rendall is the founder of several print facilities and has taught at the Princeton Art Association, University of Maine/Farmington and more recently at Lincoln Academy.
Increasing in scale and scope, his current series, The Aged and Unknown, realized with gouge, block and baron, pushes the limitations of the medium and focuses our attention on the lives and habits of unique creatures that dwell timeless in the natural world, but who's recognition, we may well be in the habit of reducing to sign, myth or metaphor. "I have spent my entire professional career observing behaviors of creatures -marveling at a hedge of herons, studying the habits of flight in birds, and grappling with the bizarre, cantankerous, and snappish world of turtles. My intention is to present the creature in its natural form; to abstain from personification, to challenge the viewer to abandon the desire to attach ones own meaning and interpretation to the physical presence of a wild being."
Along with this accomplished guest artist, the work of Aarhusians Kevin Johnson, Mark Kelly, Richard Mann, Abbie Read, Wesley Reddick and Willy Reddick will also be on view.
Susan Metzger
Simon van der Ven

June 28-July 31, 2011
Opening Reception Friday July 1, 5-8pm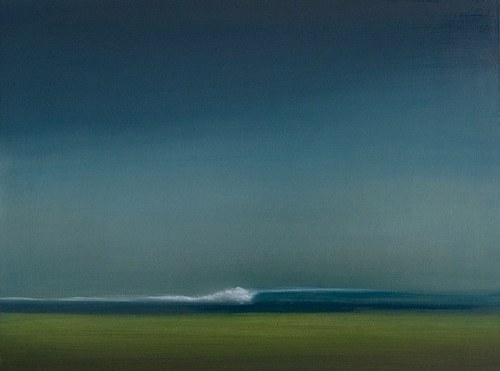 Susan Metzger
Breaking
oil on panel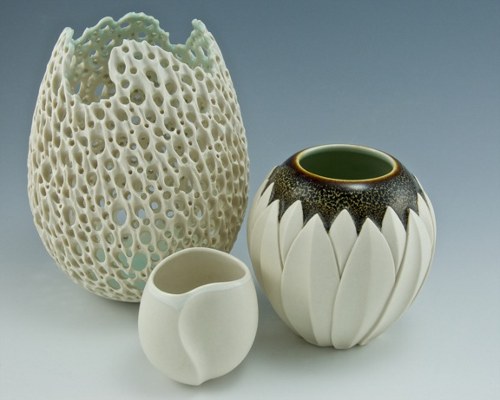 Simon van der Ven
Illuminated Egg, Lotus, and Thumb Cup
porcelain
Åarhus Gallery is pleased to have the graceful, sculptural work of ceramic artist Simon van der Ven of Lincolnville and the ethereal landscapes of painter Susan Metzger of Washington, Maine on exhibit for the month of July. The show runs from June 28th to July 31st, 2011. Please join us for an opening Reception Friday July 1st, 5-8pm.
Susan's richly layered paintings evoke mystery and a sense of refuge even while implying epic scale. She studied at the School of the Museum of Fine Arts, Boston and currently shows her work in galleries on both coasts of the US.
Simon van der Ven has worked on boats, done a stint as a carpenter, and taught for 17 years at Camden Hills Regional High School. During that time he studied in Aix-en-Provence and later enrolled at MECA and received his MFA. He now works full time in his studio making objects for warmth, light, and nourishment out of porcelain, stoneware and other materials.
Along with these accomplished guest artists, the work of Aarhusians; Annadeene Fowler, Kevin Johnson, Mark Kelly, Richard Mann, Abbie Read, Wesley Reddick and Willy Reddick will also be on view.
susanmetzger.com
vandervanstudios.com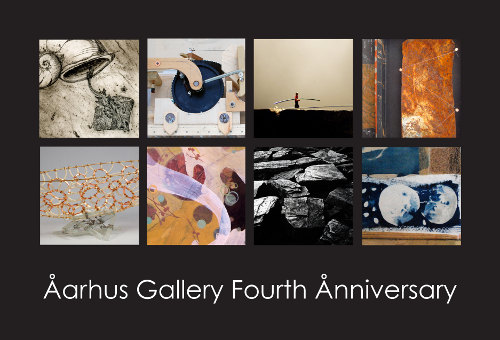 Details of work by the Aarhusians
Åarhus Fourth Anniversary
June 2-26, 2011
Opening Reception Friday June 3, 5-8pm
About forty years ago Pablo Picasso said: "It took four years to learn to paint like Raphael, but a lifetime to paint like a child." Then about twenty years ago Dr. Stephen Covey said, "Every Human has four endowments- self awareness, conscience, independent will, and creative imagination…" Four years ago, the partners of Åarhus Gallery said, "Let's open a gallery!" We may not have been self aware enough to understand what we were getting ourselves into, but since then, Åarhus Gallery has been endowed with the honor of being host to some pretty cool 'creative imagination', expressed by a multitude of artists, poets, craftspeople, writers, actors, furniture makers and children.
In celebration of our fourth anniversary, we invite the public to join us Friday June 3rd for an Anniversary show reception, from 5-8. Meet and converse with local artists, musicians, poets, art appreciators and a whole bunch of normal people too! All are welcome, in quadruplicate!
The show runs from June 2nd through the 26th and features artworks by Åarhus partners: Ingrid Ellison, Annadeene K. Fowler, Kevin Johnson, Mark Kelly, Richard Mann, Abbie Read, Wesley Reddick and Willy Reddick. We're still waiting on Raphael.

Saturday June 11, 2011 at 7pm
as if stories: Maine Actors Read Short Stories by Maine Writers
as if stories, an ongoing series of readings of short stories by Maine writers performed by Maine actors, returns to Åarhus Gallery for another evening of lively literary performances on Saturday, June 11 at 7 p.m. The evening will feature three short stories: "She Loved to Cook but Not Like This" by Brock Clarke, read by Morten Hansen; "Slow Monkeys" by Jim Nichols, read by Dennis Harrington; and "Officer Friendly" by Lewis Robinson, read by Nathan Raleigh.
Brock Clarke is the author of five books, most recently Exley and An Arsonist's Guide to Writers' Homes in New England, which was a national bestseller. His stories and essays have appeared in the Virginia Quarterly Review, OneStory, The Believer, the Georgia Review, and the Southern Review, and been anthologized in Pushcart Prize and New Stories from the South anthologies and performed on NPR's Selected Shorts. His story collection What We Won't Do was the winner of the Mary McCarthy Prize for Short Fiction. He lives in Portland and teaches creative writing at Bowdoin College.
Morten Hansen studied theater at Simon's Rock College in Great Barrington, Massachusetts, where he majored in the performing arts. A founding member of the award-winning juggling trio blink, which toured nationally and internationally, he won four gold medals from the International Jugglers Association and twice set the world record for the most objects ever juggled between two people. He has performed with the New Vaudeville Revue in Belfast and is the technical director for the Oddfellow Theater in Buckfield. Morten grew up in Bath and now lives with his wife and three children on a small off-the-grid homestead in Troy.
Jim Nichols is a native Mainer whose work has appeared in numerous venues, including Esquire, Narrative, Zoetrope, American Fiction, River City, and The Clackamas Review. He has received the Willamette Fiction Prize, a River City Writing Award for Fiction and an Independent Artists Fellowship from the Maine Arts Commission. His collection Slow Monkeys and Other Stories was published by Carnegie Mellon University Press, and his novel Hull Creek is now available from Down East Books. He lives in Warren with his wife Anne.
Belfast resident Dennis Harrington has performed in more than 200 plays with the Belfast Maskers, New Surry Theatre, TheatreArtsWorks in Camden, and the Waterville Opera House, and has read for Audio Bookshelf on National Public Radio. He has also sung (group and solo) on a variety of Maine stages, and once sung lead with the Persuasions.
Lewis Robinson is the author of the novel Water Dogs and the story collection Officer Friendly, both published by Random House. Born in Massachusetts and raised in Buffalo and Maine, he graduated from the Iowa Writers Workshop in 2001. He teaches in the Stonecoast MFA program at the University of Southern Maine, and is currently Writer-In-Residence at Phillips Academy in Andover, Mass. Lewis lives with his wife and two children in Portland.
Mid-coast native Nathan Raleigh studied acting at the University of Southern Maine and has appeared in numerous theatre productions at The Belfast Maskers, Northport Music Theater, the Penobscot Theater in Bangor, and the 15Minute Festival in Belfast. He most often lends his vocals to the two-man rock show, "The Class Machine," which appeared at the CMJ Music Marathon in NYC last fall. He lives in Northport.
The mission of as if stories is to showcase the work of Maine writers by bringing their stories to life in live readings by Maine actors. Please join our growing and enthusiastic audience, meet the writers, hear their stories, and surround yourself with engaging art and stimulating conversation. Suggested donation is $8; refreshments will be served.
Aprons, Arms, Legs and Drawers
May 5th – May 29th, 2011
OPENING RECEPTION FRIDAY May 6th, 5-8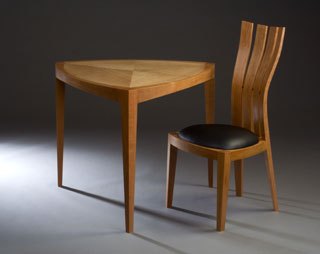 Aaron Fedarko
Belmont Breakfast Table and Dining Chair
cherry, leather
Please join Åarhus Gallery Friday May 6th, 5-8pm for the Opening Reception of 'Aprons, Arms, Legs and Drawers' a furniture show of sorts, which runs from May 5th through May 29th 2011.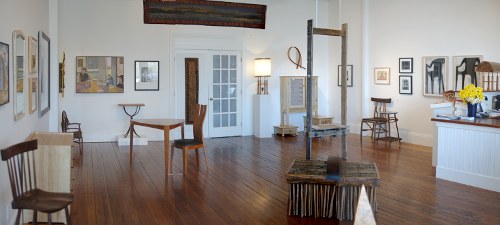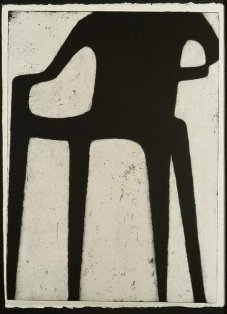 Frances Hodsdon
High Waisted
etching
25" x 33"
This exhibition is as much about furniture as it is of furniture. Åarhus Gallery has assembled a roomful of Maine artists showing work with a central theme of furniture, ie: paintings, drawings, collage, sculpture, about or pertaining for the most part, to the artists musings and interpretations of… furniture. AND, this exhibition will feature actual real live furniture, designed and built by several exceptional Maine artisans new to the Åarhus scene.
Artists featured in this exhibition will include; Matt Berta, Louise Bourne, Anne Cox, Heidi Daub, Aaron Fedarko, Harold Garde, Jay Gibson, Frances Hodsdon, Jeffrey Jelenfy, Paul Jurutka, Mark Kelly, Richard Mann, John McAlevey, Kate McLeod, Pat Plourde, Abbie Read, Wesley Reddick, Willy Reddick, Weber Roberts, Tim Rousseau, Sarah Szwajkos, Liza Wheeler, and Andrea Young.
Belfast Free Range Music Festival
April 30
www.freerangemusicfestival.com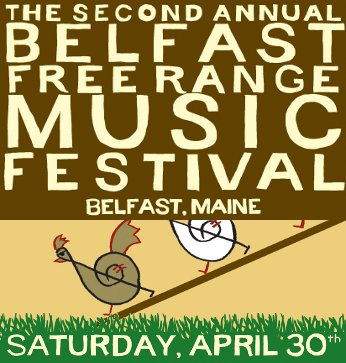 Aarhus Schedule
11:45 Asa Irons
1:45 Press Gang
3:45 The Spaceys
5:45 In Houses in Trees
ASA IRONS (Belfast, ME & NH)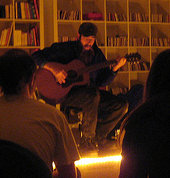 Asa Irons, also a member of Witch and acclaimed folk outfit Feathers, creates lush, oak inspired dreamscapes with a unique array of instruments (including huge metal saw blades).
"Asa Irons' voice says it all, a prime example of what the word "music" means in Hindi: that which breaks the silence." – Devendra Banhart
"After spending years in New Hampshire and often Nova Scotia, I began writing songs about my Northeastern window through which I view the world. Most of the pieces represent strong fundamentals in my life such as living without comfort resources like electricity and running water, the building trends of carpentry and masonry with which I make my living, and the slow paced rural life in which I grew up. The land of Northeastern North America is very important to me and compelled me to describe it in the form of music." – Asa Irons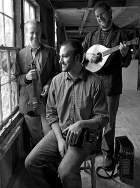 A bold new sound has emerged in New England's traditional music scene: The Press Gang fuses the talents of squeezebox player Christian "Junior" Stevens, fiddler Alden Robinson, and guitarist Owen Marshall into a high-octane musical partnership. The trio blends their skill and fluency in traditional Irish music with their curiosity and aptitude for other styles.
The result is a unique sound—at once energetic and sensitive, innovative and reverent. The joy that these musicians take from playing with each other shines brightly, both in recording and on the stage.
"Listening to the Press Gang is an elemental experience. The trio from Maine plays dance music from the New England and Celtic tradition, but breathes a unique life-force into the melodies. The jigs and reels have... a lyrical, effervescent spontaneity while retaining rhythmical perfection. In contrast, the soulful, swirling quality of the airs leaves one feeling suspended between earth and sky."
—Julia Lane, Castlebay Music, Inc. (July 2010)
"These guys play with a real heart and passion, and they've captured it all organically, with every instrument seemingly right on top of the mic, but enough sense of the room that you can hear a foot tapping...And just try to pick out the original among the traditional numbers. That it's damn near impossible shows you how invested this trio is in their music."
—Sam Pfeifle, The Portland Phoenix (July 2010)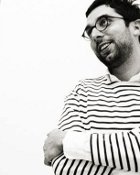 The Spaceys is the new musical identity of Alex McGregor, who has released four albums (and many appearances on comps and a few limited-edition EPs thrown in) in the last 9 years as one half of Ponies in the Surf and as a solo artist. Best known for his work in Ponies in the Surf on Darla Records, McGregor often writes, records, and performs with his sister Camille. The Spaceys music is a quiet but bouncy mix of Bossa Nova and Latin rhythms, 60′s era melodies, off-kilter lyrics and accomplished guitarisms

In Houses In Trees is the creative outlet of Patric Cunningham. After the retirement of Mt. Moon (a project that began and ended in the summer of '08 with friend Jakob Battick), Patric and fellow Mt. Mooner, Ryan Higgins, began forming and recording Patric's original material. They self produced a six song demo in late '08, and reconnected with Anthony Bitetti (of Good Kids Sprouting Horns, who had recorded their high school band 1800's Sea Monster a couple years earlier) in the spring of '09 to record their first full length TOGETHER IN THE MEADOW.
After a little over a year with no real activity, Patric and Ryan got back together to start preparing for a show in Portland, and record two songs for the LYSA HORA mixtape (put out by Horsehouse LTD and Jakob Battick). They asked Anthony if he'd be willing to be the third member, and have since begun work on a second full length for spring '11.
Stuck


Collage, Montage, Decoupage, Assemblage

March 31 – May 1st, 2011
OPENING RECEPTION FRIDAY April 8th, 5-8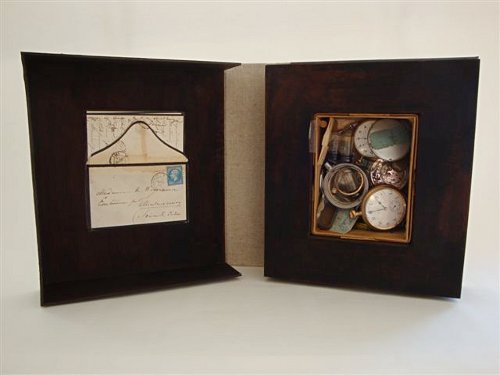 Clock Works by Abbie Read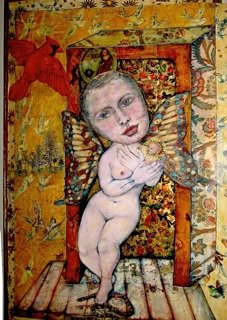 Isis: Birds to the Rescue by Maryjean Crowe
36" x 48", paint, drawing, collage, tattoos, bricollage, gold leaf on book board
Åarhus Gallery fixes to mount a riveting and fasten-ating collection of creations from a gaggle of Maine artists who happen to adhere to working with ... glue, or any other clever way of attaching, layering, stratumizing or plain old fitting things together. Please join Åarhus Friday April 8th, 5-8 for the Opening Reception of, 'Stuck: Collage, Montage, Decoupage, Assemblage', which will run from March 31st through May 1st. We're sure you'll be stuck on it.
Featured artists will include Vincent Abaldo, Daniel Anselmi, Dan Beckman, Michael Buckley, Nancy Buckley, Peter Chamberlain, Constance Cossette, Maryjean Crowe, Dan Dowd, Ingrid Ellison, Stew Henderson, Mark Kelly, Karen MacDonald, Peter Madden, Richard Mann, Harvey Peterson, Ben Potter, Abbie Read, Wesley Reddick, Willy Reddick, Ieva Tatarsky, Norman Tinker, Frank Turek, and Walter Ungerer.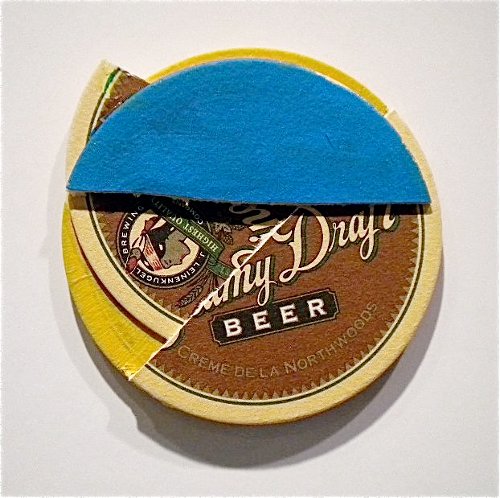 Untitled by Stew and Lucy Henderson
3rd Annual "44N 69W: Radius Belfast"
to Benefit Local Food Pantries
Reception Friday March 4th, 5-8pm
March 3rd through March 27th 2011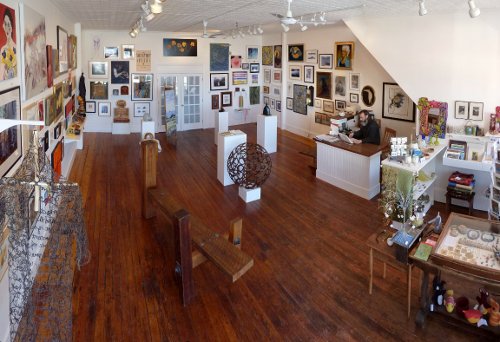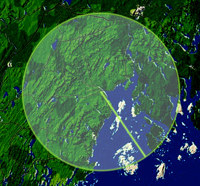 Åarhus Gallery once again, toasts our vast creative community by opening its walls to Maine residents of any age or training, living within a thirty mile radius of Belfast, to show their stuff - artwork, that is - in our all-encompassing 3rd Annual show entitled "44N 69W: Radius Belfast". From potters, painters, and welders to musicians, knitters and mobile makers, all work falling within the gallery's fairly liberal view of 'decency' will be presented on the walls, floor, or ceiling, as the case may be.

Review by Aislinn Sarnacki.
Poets Laureate
read new prose
Sunday March 6th, 3-5pm
Free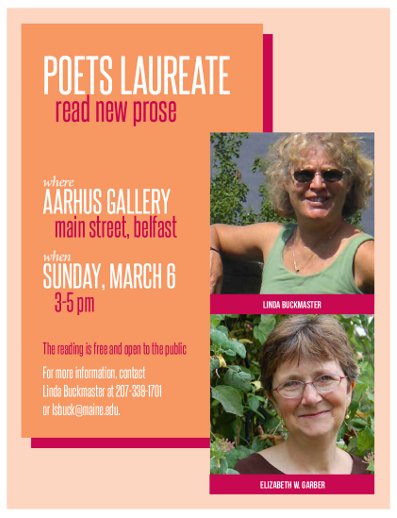 Luna Madidus 2nd Anniversary Concert
Saturday March 12, 2011 at 7 pm
$7 suggested donation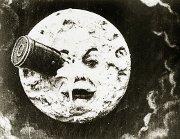 Mid-Coast jazz group Luna Madidus celebrates their 2 year anniversary with a concert at Åarhus Gallery on March 12 at 7:00 PM. Throughout their 2 year history the band has crossed the boundaries of pop music, poetry, 19th century classical music, and more recently dipped a toe into the theater of the macabre with a musical setting of Edward Gorey's " Gashleycrumb Tinies".
The band's eclectic sound is due to the multifarious nature of the musicians who make up Luna Madidus. "We're all somewhat chameleon-like", says pianist and composer Tom Luther. "Everyone in this band has interest and skill in many different genres of music, and in some cases, different art forms. It's really helped to build a sound that is more and more undefinable, which I think is a sure sign of progress."
For this show, Luna Madidus will present several premiere performances of brand new works composed for this occasion.
Admission is by suggested donation of $7 and light refreshments will be served.
WHITE
February 3-27, 2011
Opening Reception Friday Feb 4th, 5-8
Åarhus Gallery to while away the winter hours with 'WHITE'
It appears that a widely held view of the color white is that it's what's left after all color has been removed, "Oh no, the sun bleached the color out of my favorite tie-dyed T-shirt!" Not to worry, because technically speaking, WHITE is the color of objects that reflect nearly all light of all visible wavelengths. WHITE is what we see as the response to the maximum stimulation of the retina. In other words, WHITE is the whole shebang baby, the universe in an eggshell, a rainbow in a saucer of milk. Historically, WHITE has symbolized purity and goodness, as to why then the puritans wore so much black is a subject for another discussion. White flour, on the other hand, has had much of the nutritional punch taken out of it. The WHITE HOUSE was aptly named then for its paint job. But WHITE can also mean reactionary or intensely heated, impassioned, or 'with milk added'. Whatever white is, the perception of white appears to most often depend on... contrast.
Aarhus Gallery and friends will be exploring the color White, its evocations and contrasts with a show not surprisingly titled, 'WHITE', from February 3rd through the 27th with an opening reception Friday February 4th, 5-8pm.
Featured artists will include Ragna Bruno, Maryjean Crowe, Gabriella D'Italia, Ingrid Ellison, Kevin Johnson, Mark Kelly, Freddy LaFage, Marc Leavitt, Richard Mann, Karen MacDonald, Petrea Noyes, Abbie Read, Wesley Reddick, Willy Reddick, Mike Rich, Lesia Sochor, Prairie Stuart-Wolff, Simon van der Ven, and Richard Whittier.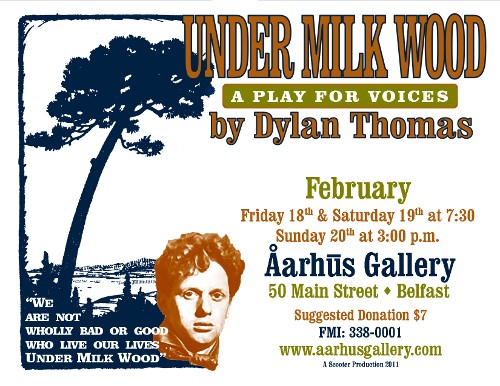 Under Milk Wood comes to Aarhus
February 18 & 19 at 7:30 p.m. and February 20 at 3:00 p.m
$7 suggested donation
The classic mid-20th century "play for voices" by renowned Welsh poet Dylan Thomas, will be performed February 18 & 19 at 7:30 p.m. and February 20 at 3:00 p.m. at the gallery.
Under Milk Wood is a day in the life of a small welsh seaside village where, "...less than 500 souls inhabit the three quaint streets and the narrow by-lanes and scattered farmsteads that constitute this small, decaying watering place which may, indeed, be called a 'backwater of life' without disrespect to its natives who possess, to this day, a salty individuality of their own..."
The voices of 60-odd characters will be read by Larason Guthrie, Lisa Goodrich, Peter Conant, Richard and Beverly Mann, Jennifer DeJoy and Michael Fletcher under the direction of Guthrie. There is a suggested donation of $7 at the door.

Maine Actors Reading Maine Writers
Sunday February 13th, 3pm
$10 Suggested donation
Åarhus Gallery proudly welcomes back as if stories, an ongoing live-performance series of readings by Maine actors of short stories by Maine writers, on Sunday, February 13th at 3 p.m. as if is pleased to present "The Reach," a lyrical winter ghost story by Stephen King, performed by Helen York and Bonnie VersbonCoeur, with live musical accompaniment by Doug Ludwig.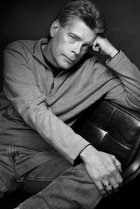 Stephen King
Stephen King was born in Portland, graduated from Lisbon Falls High School and the University of Maine, Orono, and taught high school English at Hampden Academy until his first novel, Carrie, was accepted for publication. The rest is history. A household name for his best-selling novels, including The Shining, Misery, Dolores Claiborne and Lisey's Story, Mr. King is also a master short story writer. His first story was sold to Startling Mystery Stories in 1967, and he has been startling his readers ever since. His story collections include Different Seasons, Four Past Midnight, and the recently released Full Dark, No Stars. Mr. King received the National Book Foundation Medal for Distinguished Contribution to American Letters in 2003. He and his wife Tabitha live in Bangor and Center Lovell.
Helen York has been a radio voice on Maine Public Broadcasting, WCPN in Cleveland, Ohio, and WERU Community Radio, Blue Hill. She is a PhD candidate at the University of Maine and teaches History at Eastern Maine Community College. She lives and gardens in Newcastle.
Belfast's own Bonnie VersbonCoeur has performed with the New York Mirror Repertory Theater, The Belfast Maskers, and The Playhouse Theater in Belfast. She produced and hosted Up East Over West, a spoken word program, and originated and performed in Live Radio Drama, both on WERU. She is a sculptor and an Interfaith Chaplain with Waldo County Home Health & Hospice.
Doug Ludwig studied composing at Bennington College and the University of Maine. He has played with UMA's Big Band ensemble, in Portland area rock, disco and R&B bands, and most recently with the Spare Change Community Jazz Band at Great Salt Bay School in Damariscotta and the Salt Bay Jazz Quartet. He has also created and/or performed music for "A Midsummer Night's Dream," "The Rock 'n Roll History of Whitefield," and other stage productions.
The mission of as if stories is to showcase the work of Maine writers – the known, the lesser known, and the great unknown – by bringing their stories to life in live readings by Maine actors. Please join our growing and enthusiastic audience and surround yourself with engaging art and stimulating conversation. Suggested donation is $10 and includes light refreshments.