November 1- December 24, 2013
Opening Reception Friday November 1st, 5-8pm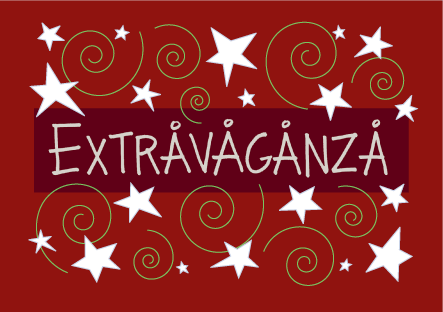 Our seventh annual EXTRAVAGANZA kicks off early again this year, and runs from November 1st through December 24th. This jam-packed show features smaller artworks and a wide range of creative craftwork priced with gift giving in mind. Works in a dazzling variety of mediums, from over 70 talented Maine artists from throughout the midcoast and beyond will be exhibited, including: pottery, poetry and painting, collage, etching and photography, woodblock prints, blown glass, fiber arts, turned wood, handmade books, cards, calendars, ornaments, jewelry, music, new Glass Plate images, chocolates and more!
Twice a year Åarhus hangs a show salon style, not only to take full advantage of the available wall space but also to exemplify the vast array of talent, imagination and the multitudinous manifestations of artistic impulse we have here in the midcoast. The first floor to ceiling exhibition of the year is the hugely popular 'Radius Belfast' show, where all artists and artisans alike within a 30 mile radius of Belfast are invited to show their stuff. This show annually dazzles the walls for the month of March and is a great energy lifter for the winter doldrums. The Extravaganza however, our second salon style show, is the holiday hallmark of small works shows expressly and unabashedly focusing on the gift giving season. This show runs for two months and features all of the artists from the four invitational theme shows and the three guest artists shows as well as the craft artists that are featured throughout the year. Artists are asked to consider smaller works for this show so the public can expect to see an overall lower price point. This also gives the viewer an opportunity to recap all the previous Åarhus shows and possibly walk away with a real gem that otherwise may have gotten away or that the artist hadn't shown during the regular season.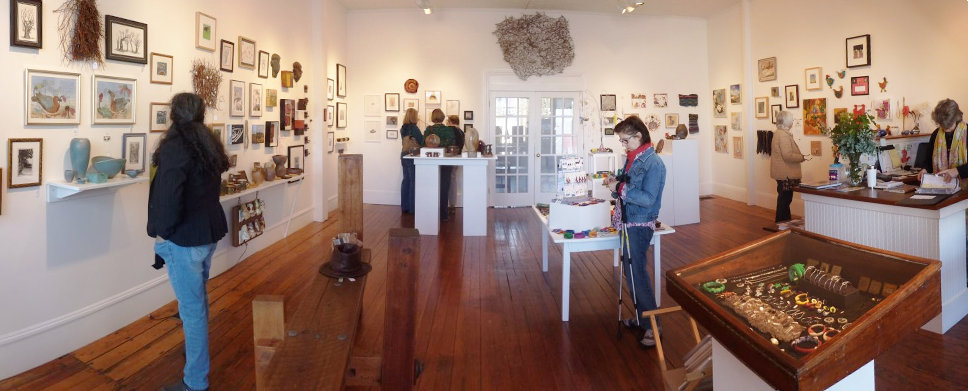 Artists who have shown in the gallery and in the crafts section over the past year will be featured, along with some newcomers and the Åarhus partners. Artists included will be: Michael Alpert, Susan Amons, Suzanne Anderson, Barbara Andrus, Bernice Arthur, Joe Ascrizzi, Dan Beckman, Mark Bell, Bixby & Co., Martha Briana, Marcie Jan Bronstein, Phyllis Buchanan, Linda Buckmaster, Brendan Bullock, Josh Carlson, Kate Chandler, Kenny Cole, Cinder Conk, Susan Cooney, Al Crichton, Maryjean Crowe, Bill Davis, James Deane, Dean's Sweets, Gabriella D'Italia, Kris Engman, David Estey, Maureen Farr, Jerri Finch, Sallie Findlay, Alan Fishman, Annadeene Fowler, George Fowler, Free Seedlings, Jacob Fricke, Elizabeth Garber, Harold Garde, Carol Gater, Gawler Sisters, J.T. Gibson, Ellen Goldsmith, David Jacobson, Jeffrey Jelenfy, Karen Jelenfy, David Johnson, Kevin Johnson, Jody Johnstone, Judd Jones, Susan Jones, Mia Kanazawa, Mark Kelly, Hannah Kreitzer, A. C. Kulik, Valerie Lawson, Marc Leavitt, Betsy Levine, Joel Lipman, Little Letterpress, Carol Logie, Stuart Loten, Richard Mann, Barbara Maria, Jennifer Marshall, Sandy McGaw, Kate McLeod, Holly Meade, Cathy Melio, Kate Mess, Metaphor Bronze, Leslie Miller, Ed Moffitt, Hanako Nakazato, Nire Art, Novel Jazz, Toki Oshima, Leila Ostby, Alex Portela, Robbi Fritz Portela, Jane Ploughman, Ben Potter, Phil Prince, Joan Proudman, Rebekah Raye, Abbie Read, Wesley Reddick, Willy Reddick, Julie Rose, Rural Electric, Ashleigh Russell, Eleanor Salazar, Erica Schlueter, Betty Schopmeyer, Mike Silverton, Carol Sloane, Karin Spitfire, Toussaint St. Negritude, Tandem Glass, Mary Trotochaud, Nance Trueworthy, Larry Unger, Glen Veevaert, Simon van der Ven, John Vincent, Dayle Tognoni Ward, Patricia Wheeler, Whiffletree, Andy White, J. Fred Woell.
Come join the fun, meet the artists and help kick off the Seventh Annual Holiday Extravaganza with an opening reception Friday November 1st from 5-8 pm.
View Image Gallery →