July 2- 28, 2013
Opening Reception Friday July 5th, 5-8pm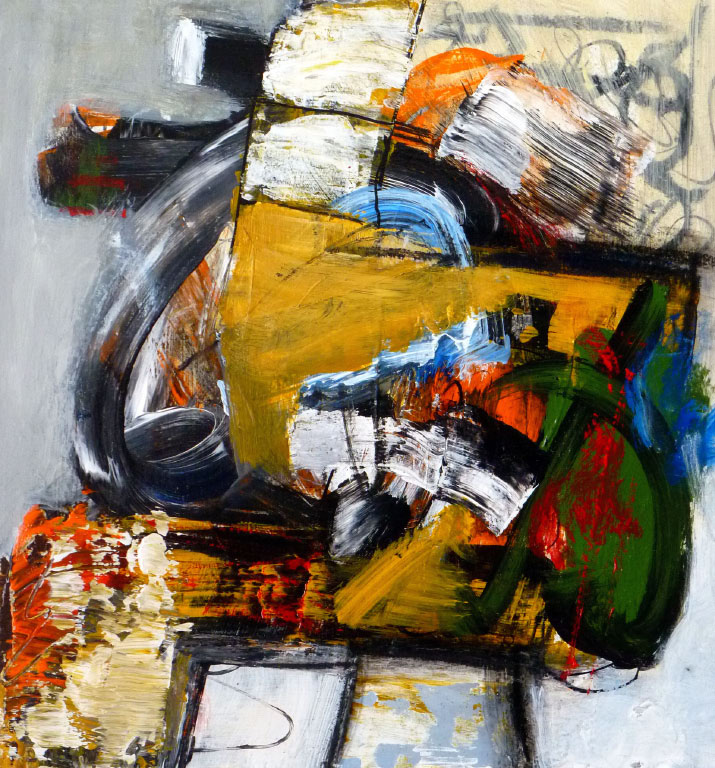 Jaap Eduard Helder
Out There Like This
acrylic on paper
7.5″ x 6.5″
Åarhus Gallery is pleased to exhibit the work of Jaap Eduard Helder of Belfast and Jody Johnstone of Swanville to open the summer guest artist season for the month of July. The show runs from July 2nd through the 28th, 2013. Please join us for an opening reception Friday July 5th, 5-8pm.
Jaap Helder began painting in Holland where the landscape of industrial shapes and colors of post World War II reconstruction became an integral part of the imagery for his paintings. Helder was influenced by Escher, Mondrian, Karel Appel, and American jazz, which began his attraction to the United States, where he settled after extensively exploring his native Europe. Helder eventually landed in Maine and became acquainted with several artists, including John Hultberg, who further influenced and encouraged his work.
To put words to Jaap Helder's paintings; If it were possible to visually bisect the recognizable, the perceptible space that may be used to disengage it's parts, is what Helder paints. Even the texture of his paint creates a surface viscosity appearing to be imbibed with color emulsion from a photograph, exquisitely estranged. It entices us to see that which is between the tangible and the notional; "I draw the viewer into an imagined landscape, into a colorful, dynamic world that hovers between the abstract and the representational."
For Jody Johnstone, pottery and woodfiring are inseparable from each other, and from her as well, in fact they've become her way of life. She's never done anything else since returning from a two-year apprenticeship in Bizen, Japan with National Living Treasure, Jun Isezaki. Jody now conducts two eight day firings a year with a crew of four in the 24 foot long, 800 pot capacity, anagama kiln she built back in 1997, " I want my pots to be both strong and soft, to embody my sense of beauty and rightness. The long firing adds richness and depth, and introduces just the right element of chance and mystery ……"
Seeing and handling Jody's work is to witness talent and tireless dedication to a craft, and there will be no mystery why we view her as a living treasure right here in Swanville, Maine.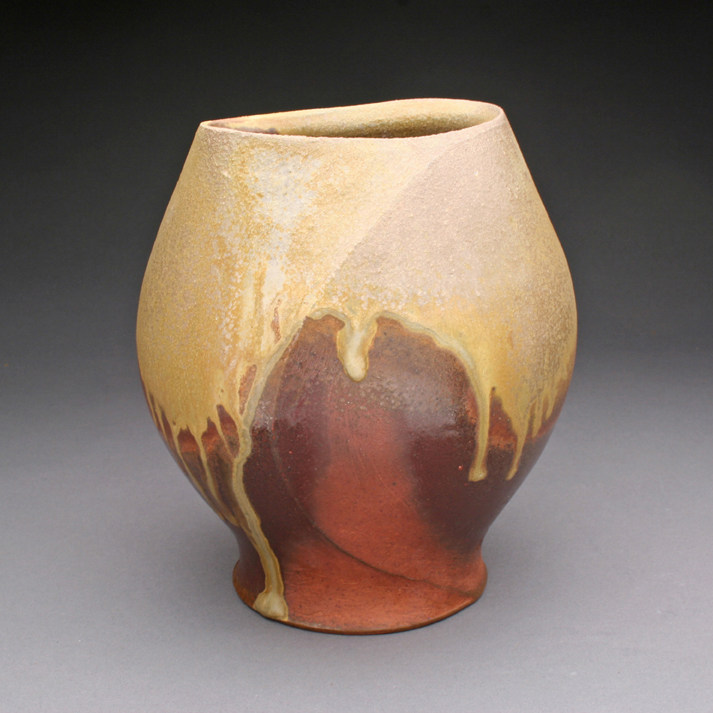 Jody Johnstone
Sculpted Vase
stoneware, anagama fired, unglazed
7" x 6 1/2" x 6"
Jody has shown all over New England, including CMCA in Rockport, Maine, the Worcester Center for Crafts in Worcester, Mass. and the New Hampshire Institute of Art, Manchester, NH. Her work has been included in numerous publications, many private collections and is in the permanent collection of the Corning Community College in Corning, NY.
Also showing will be the work of Åarhusians Kevin Johnson, Mark Kelly, Richard Mann, Wesley Reddick and Willy Reddick.