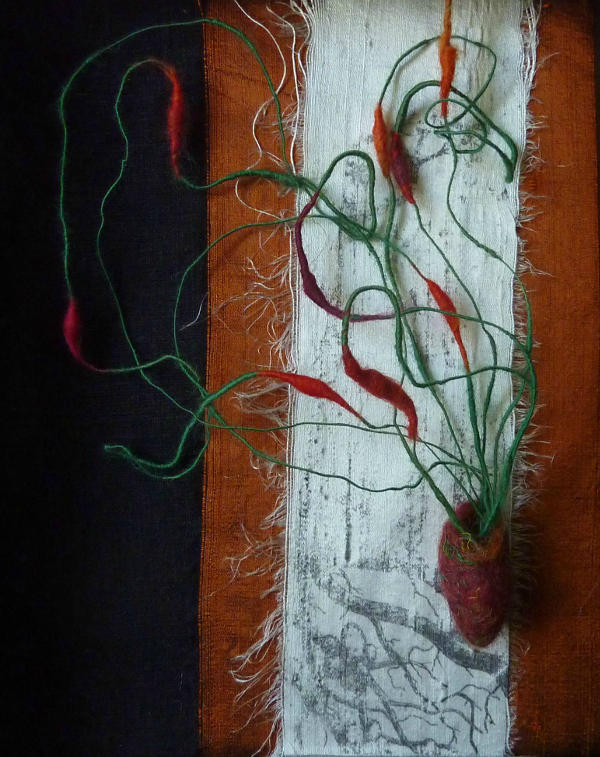 Julie H. Rose
September 2 – 28, 2014
Opening reception Friday September 5th, 5-8pm
We are pleased to have Julie H. Rose of Belfast as our guest artist for the month of September. The show runs from September 2 through the 28th with an opening reception on Friday September 5th, 5-8pm.
… a fascinating and immensely satisfying feast for the mind and senses.
~ Britta Konau for The Free Press
Julie has had a varied artistic career thus far, but working with fiber has been a constant, if not curvilinear, thread in her life. Raised by two textile designers, she was given free reign with the family art supplies as well as being introduced to sewing and crocheting at an early age. After receiving a BFA from the School of Visual Arts she worked as a commercial illustrator in New York City for Gourmet and Cuisine magazine, while also playing guitar in various punk bands. A few years later, trying to escape the rat race, she moved to Maine to raise sheep for wool and to spin and weave. Later, needing a break from raising sheep, she worked as a tattoo artist and a knitting designer. Through all her varied endeavors she has continued to knit, spin, dye, crochet and sew… exploring the world of fiber. And for her show at Åarhus, that is what she has done. Her shadow boxes contain lovely embroidered, felted, and sewn morsels mounted on silk and hand printed fabrics. They may remind you of edible plants and cocoons, or they may tug at the strands of our ancient memories and evoke the fragile skeletal remains of unknown and delicate organisms, from before the rat race.
Åarhus invites the public to race on over for the opening on the first Friday of September and join in a few threads of conversation with the artist herself.