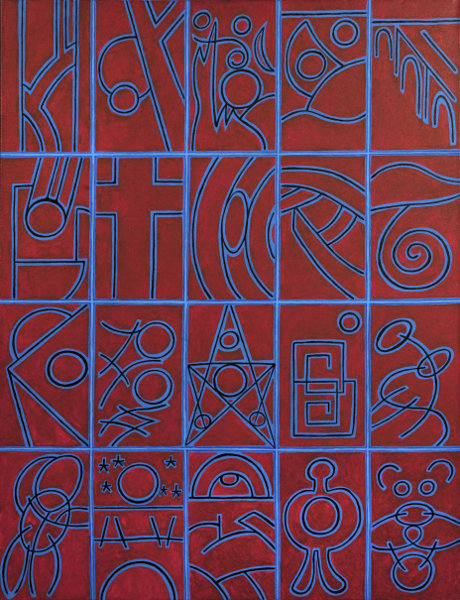 Meditations on Color
July 29 – August 31, 2014
Opening Reception Friday August 1st, 5-8pm
Åarhus Gallery is pleased to have Belfast artist Marc Leavitt as their guest artist for the month of August. The show runs from July 29th through August 31st with an opening reception on Friday August 1st, 5-8pm.
Marc Leavitt is an artist who investigates, examines and studies, images, text, signs and music, with a paint brush and color. His research manifests as multilayered abstract paintings, but only after days, sometimes weeks of analysis of color relationships which in turn require more visual discussion and particularization. Predetermined colors that seem "wrong" together create excitement in the heart of this artist, this color psychotherapist, because they present the artist with a meaty problem to be worked, explored, layered and refined to be made "right". Marc leavitt's oil paintings exude a scrumptious attention to detail, layer over meticulous layer.
Marc's paintings and works on paper have been placed in U.S. and international collections and featured in Architectural Digest and other publications. Selected local juried exhibitions include, the 'I-95 Triennial—From Connecticut to Maine' at the University of Maine Museum of Art, and CMCA's 'Art to Collect Now'.
Åarhus invites the public to meet the artist and share in his meditative observations of color, language, and the grid in his first solo exhibition with the gallery.