Saturday June 14th at 7pm
Sliding scale $5-$10
Please join us for an evening of music with the ambient sounds of Quantum and Algorithm on Saturday, June 14th at 7:00pm.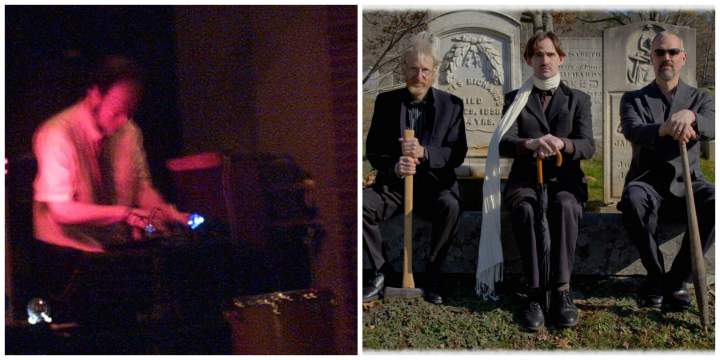 Algorithm, comprised of Tom Luther, Mike Whitehead and Jacob Fricke, is an ambient music trio presenting a luscious combination of jazz improvisation with performance poetry. Their intriguing and unique moods and soundscapes feature both electronic and acoustic media in concert with lively, lyrically dogmatic spoken word. Their first major performance came as part of the "Elegant Enigmas" show of the work of Edward Gorey in Portland Maine in 2012 and have since performed summer and winter solstice concerts to appreciative audiences in Belfast. Thier first album soon to be released is entitled "Underneath Oblivion".
Jacob Fricke is a performance poet and actor, and the author of, This Book of Poems You Found (Illuminated Press, 2010). He is a former poet laureate of Belfast and performs frequently in solo and theatrical settings in the New England region. Mike Whitehead is a first call trumpeter and a frequent sideman with local pickup groups. He's the leader of the Mike Whitehead Group and is the owner/operator of Kat Trax Recording in Thomaston, Maine. He teaches at the Bay Chamber Schools and his album "Habitat" is available through Band Camp. Tom Luther is a pianist and composer, working in acoustic and electronic media. His jazz album, "Everything Is Blue", was released in 2012, and his group, the Tom Luther Quintet, has performed at the Free Range Festival, Aarhus Gallery, Ginko Blue, and River Tree Arts. His ambient album, "Environments", will be released in the first quarter of 2014, and features field recordings of nature sounds in the mid-coast of Maine.
'Quantum' is the the new solo project of the ever self-reinventing and rhythmically expanding Jason Dean and is comprised of synths and drum machine as well as live instruments that will lead you to an ambient electronic experience that might even make you move your booty.
There is a sliding scale of $5-$10 with light refreshments available. For more information visit www.aarhusgallery.com or call 338-0001.