Saturday March 8, 2014
7:30pm
Tickets; sliding scale $8- $16 at the door.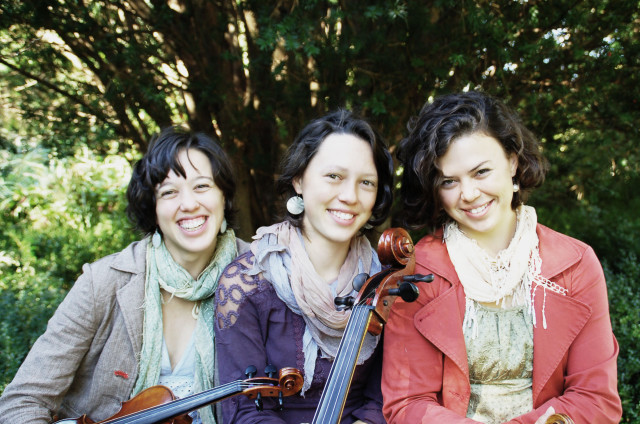 Åarhus Gallery is very excited to host a concert of the fun-loving, locally grown, folk-singing Gawler Sisters, the day after Valentine's Day – Saturday February 15th at 7:30pm. They will be joined by the talented philharmonic farmer himself – singer songwriter Bennett Konesni, in what promises to be an evening of wonderful music and beautiful harmonies. Molly Gawler plays the fiddle and is a dancer who has toured internationally with Pilobolus Dance Theater as the lead in the production, Shadowland. Elsie Gawler incorporates the cello into folk music with a range of chops, backup rhythms and innovative chord structures. She is also an avid painter, spinner, knitter and potter. Edith Gawler fills out the Gawler ensemble with rich, low vocal harmonies and skilled musicianship on banjo and fiddle. She is also a designer and farmer along with her husband Bennett. As a duo based in Belfast, she and Bennett teach worksong workshops that seek to put the 'culture' back in agriculture.
The group's songbook is an extensive collection of traditional and original tunes in the Scots-Irish, Franco-American and Scandinavian traditions. These folk-blues, gutsy worksongs, and amusing odes to everyday life are complemented by angelic three-part-harmony, infectious spirit, and sparkling musicianship. This trio plus one, generously share their heartfelt, grassroots sense of community and will leave you smiling and feeling part of the family. And a lovely family it is.
Come feel the love! Tickets at the door are sliding scale, $8-$16 with light refreshments. Cds will be available to purchase.
Website – www.gawlerfamily.com
Watch Video