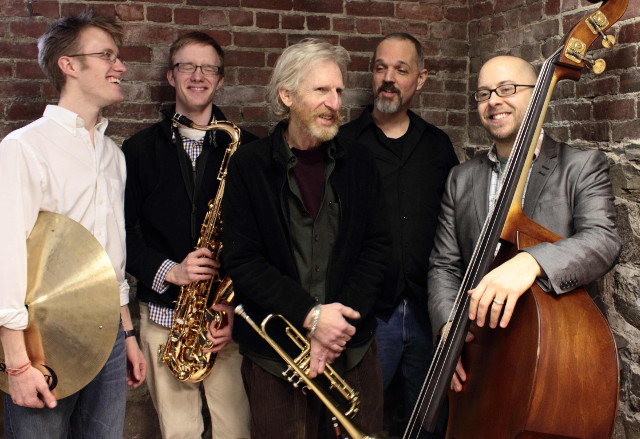 Date: Saturday May 24, 2014
$10 suggested donation
The Tom Luther Quintet returns to Åarhus Gallery on Saturday, May 24th for an evening of vibrant original jazz. TLQ features some of the most accomplished young musicians in Maine as well as seasoned veterans, performing exciting original music that draws from the wellspring of jazz and freely floats in the worlds of rock, ambient, and world music.
"We have a great combination of musicians in this group, who break a wide path through the art," says pianist and composer Tom Luther. "We build from our jazz training, and expand through our varied experience. The result is music that sits clearly in the genre, but is always looking beyond it, and pushing at the boundaries."
Luther hopes to fully exploit the eclectic nature and flexibility of his bandmates with several new works he will be premiering at the performance. "I'm culling two pieces from my latest ambient music project, Twelve Moons, and I am bringing a third piece inspired by the music of Senegalese master singer Youssou N'Dour," comments Luther. Luther treats the challenge of this kind of cross fertilization as an artistic necessity, owing to both the increasing speed at which information travels and the inherently hybrid nature of jazz. "Jazz has always been a mixed language, and in the modern era, masters like Charles Mingus and Herbie Hancock have pushed that idea even further", says Luther, citing two of his major inspirations.
TLQ features Mike Whitehead on trumpet and flugelhorn, Gideon Forbes on tenor saxophone and clarinet, Tom Luther on piano, Duane Edwards on bass, and Jacob Forbes on drums. The performance will be from 7:00pm until 9:00, and there is a suggested donation of $10 with light refreshments available. For more information call 207-338-0001.