Recent Events 2009
3rd Annual Extravaganza
November 27-December 24 2009
Reception: Friday December 4th, 5-8pm
Open daily 10am-6pm, Fridays until 8pm with Musical Entertainment. Christmas Eve only until 3pm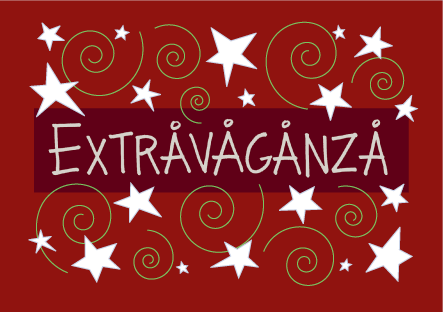 Friday Night Music
Live Music and Cider, Friday Nights 6-8pm
Nov 27. Scot Cannon, Jazz and classical instrumental acoustic guitar
Dec. 11 Tom Luther, Solo piano, from Mahler to Monk, and original compositions
Dec. 18 Dan Beckman, Purpousefull pitter patter ocean sky accidents and elastic harmonies CDs and Tapes available during EXTRAVAGANZA
Small works & affordable quality gifts by 70+ local artisans, poets and musicians: assemblage, bronze, cards, collage, dolls, etching, handbound books, glass, hats, jewelry, music, ornaments, paintings, photography, poetry, pottery, prints, felted puppets, quilts, sculpture, scarves, trinkets, wood, and more. A new selection of images from the Glass Plate Archive will be available as well.
Daniel Anselmi
Susan Brady
Phyllis Buchanan
Linda Buckmaster
James Deane
Liz Deane
Gabriella D'Italia
Stephen Florimbi
Carol Gater
Ellen Goldsmith
Jeffrey Jelenfy
Judd Jones
Susan Jones
Michelle Kelly
Betsy Levine
Joel Lipman
Heléna Melone
Barbara Maria
David McLaughlin
Kate Mcleod
Cathy Melio
Toki Oshima
Leila Ostby
Dan Rocha
Dianna Rust
Mary Trotochaud
Glen Veevaert
Seth Whited
Video by Al Arthur, Music by Boom Ting with Wesley Reddick, Willy Reddick, Mark Kelly, and Derek DeJoy.
Obscura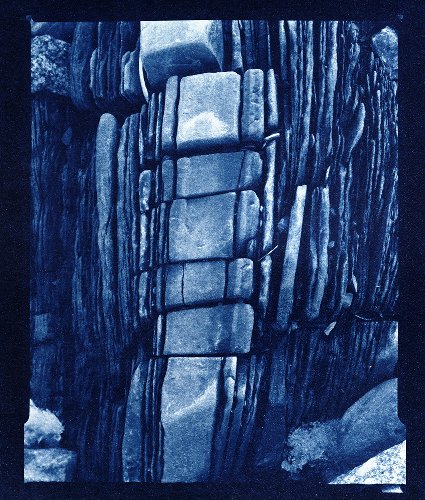 Stack by Kevin Johnson, Cyanotype
October 20-November 15, 2009
Reception: Friday October 23rd, 5-8pm
Open daily 10am-6pm

Aarhus Gallery focuses on the art of alternative and historical process photography with a show entitled 'Obscura' featuring 22 artists from masters to experimentalists working with pinhole, cyanotype, mordoncage, platinum, plastic camera and gum arabic. On view October 20- November 15th. The public is invited to the Opening Reception Friday October 23rd from 5-8pm.
Is it stating the obvious to say that photography has evolved quite a bit since its discovery was announced in France and England in 1839? There have certainly been some amazing advancements, but the origins of photography are still with us and may prove to be as inextricable as our family tree roots.
The digital age is upon us and the days of film, darkrooms and chemistry seem to be as fleeting as the images first reflected into the 'Camera Obscura' so long ago. However, there are still some resourceful individuals that mix chemicals, coat paper with light sensitive emulsions and use the sun (or light box) to work light into image. Join us at Aarhus to see a diverse group of artists work their magic in various forms of alternative and historical process photography, and trip the light fantastic.
Luis Feliciano
Annadeene K. Fowler
Jay Gibson
Mark Kelly
Richard Mann
Wesley Reddick
Willy Reddick
Dianna Rust
Camden Filmmaker Walter Ungerer to Show Films, Speak at Aarhus
Friday, November 13th, 2009 7pm.
Join Åarhus Gallery for an evening of experimental film with Camden filmmaker Walter Ungerer Friday November 13 at 7pm. Walter will follow up with a Q&A after the show. Admission is free.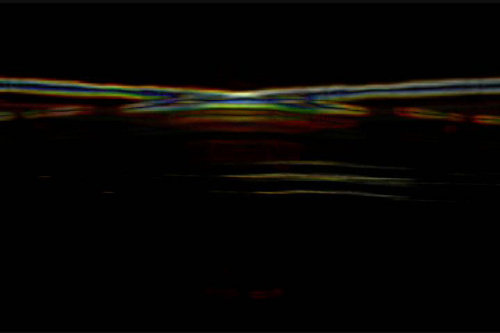 Film Still: Such As It Is
Walter Ungerer is a longtime filmmaker and artist living in Maine with an international reputation. Beginning with the underground film scene of NYC in the early 1960s, Walter continues with his experimental short films, videos and features to this day.
With fifty years of filmmaking, video, computer, and media experience, Walter Ungerers' works have been well received at festivals and competitions throughout the world, to name a few: the Florence International Film Festival, the Tours International Film Festival, France, the Athens International Film Festival (Best Feature Film) and the Atlantic Film and Video Festival, NS, Canada (Critics' Choice Award). He has been honored with special exhibitions at the Museum of Modern Art, New York City and the Filmmuseum in Amsterdam as well as several other impressive venues. He has also received among other grants and awards, an American Film Institute Independent Filmmaker grant and a National Endowment for the Arts Media grant.
The films that will be shown at Aarhus Gallery will be a collection of five artistic experimental videos from 2007-2009. With keen camera work as well as rich and expert use of post production editing, these films take the viewer on a leisurely sublunary tour of an artists vision of their environment.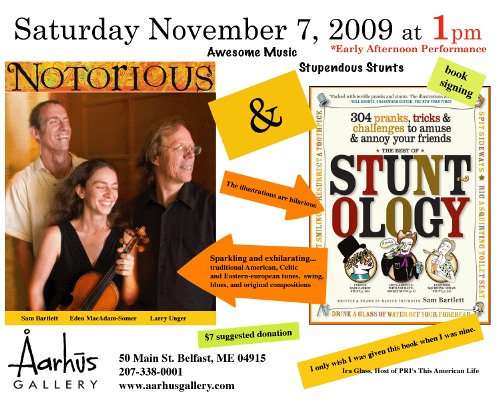 Stuntology & Notorious Trio
Saturday November 7th, 1pm
Sam Bartlett, Eden MacAdam-Somer, Larry Unger.
Awesome Music, Stupendus Stunts & Book Signing
$7 suggested donation

Notorious musicians Eden MacAdam-Somer, Larry Unger, and Sam Bartlett bring together traditional and contemporary acoustic music from around the world, creating a dynamic, swinging sound that is sure to get you on your feet. Seasoned dancers know Larry Unger not only as a performer who sparks nationally renowned bands but also the composer of countless fiddle tunes and lilting waltzes. Declared "guitar genius" by Sing Out Magazine, Unger joins with rabid mandolinist Sam Bartlett and demon fiddler Eden MacAdam-Somer to push the envelope towards swing, blues and Gypsy modes.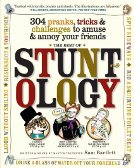 Absurd pranks and pointless techniques to amuse yourself, amaze your friends, and annoy everyone else.
I've always been fascinated with how people stay completely engaged using only what they have at hand. Whether it's balancing a napkin on the end of their nose or balancing potatoes over every door in a friend's house, boredom is unnecessary.
I documented stunts for about 20 years, got many of them while touring the country as a musician. Every time I got a new one I'd illustrate it and put it into my zine, The Journal of Stuntology. In my travels I distributed tens of thousands of these, and later self-published two books, both (almost) out of print.
Luckily, Workman Publishing just put out a compilation of the out of print books, which also includes many never published stunts. It's awesome!!!!! ~Sam Bartlett, Stuntologist Stuntology interview with Sam Bartlett.
Photos by Georges Nashan
Saturday, October 24, 2009.
Agharta Jazz with special guest Kristen Burkholder
"A Jazz Eye View"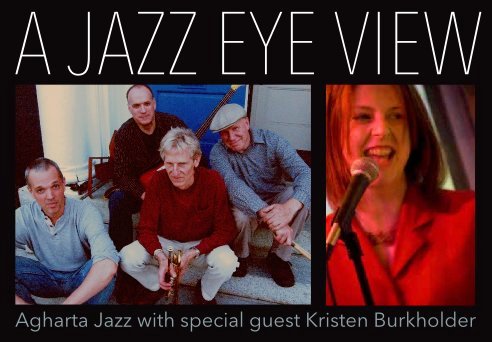 Consider an amalgam of the 1972 introverted-oddity of Ziggy Stardust and 1901 extroverted-reality of Gustav Mahler; a winsome Gene Wilder ballad ballasted by the lounge throb of Boston's Morphine; the bass beat of a Mingus tune answered by the vibrancy of a Belfast-driven new jazz quartet.
Agharta Jazz offers a night of music as experienced through the prism of jazz.
"The idea is to focus on what is essential in music, that which transcends genre and idiom, the emotional component which moves us at our hearts" says composer and pianist Tom Luther. Agharta Jazz will be presenting a unique concert event with special guest vocalist Kristen Burkholder. Agharta Jazz will feature its core lineup, with Mike Whitehead on trumpet and flugelhorn, Tom Luther on piano, Doug Kennedy on bass, and Jeff Densmore on drums. They will be joined by vocalist Kristen Burkholder, who has delighted audiences with her group Tango.
Holly Meade
September 22-October 18, 2009
Reception Friday October 2nd, 5-8pm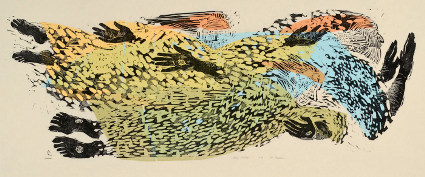 Holy Trinity 48x18 2007
Artist's statement - Woodblock Printing
A multi step process, printing with woodblocks is certainly an indirect path taken, but surprisingly, one that frequently results in images of great immediacy. Each step; the drawing, carving, inking, and printing of the block, all must come together in harmony to create a successful image. The results of this age old technique are most often energetic and insistent. The pattern and surface tension caused by the negative and positive shapes are part of the reason for this. I find it to be a challenging process, sometimes frustrating, always engaging. I am quite taken with it.
Art…its true effort is to open to us dimensions of the spirit that normally lie smothered under the weight of living.
–J. Winterson
Meade works as a printmaker and children's book illustrator.
The exploration in woodblock printing has been the focus of her work life for the last 6 years. This interest developed following a workshop with printmaker Hester Stinnett at the Haystack Mountain School on Deer Isle in 2002.
Illustrating children's books is the other part of her work life. Over 25 books been published in the last 15 years, many receiving awards, including a Caldecott Honor. These books have been illustrated primarily with collage techniques, although two recent books are done with woodblock prints.
Meade's studio and gallery are in Sedgwick, near Blue Hill. The gallery is open during the summer months.
Reach Road Gallery - www.reachroadgallery.com
Education - BFA / Painting / Rhode Island School of Design
Five-String Banjo Night featuring Bob Webb with Helen Richmond Webb
Saturday October 3, 2009 7:30 pm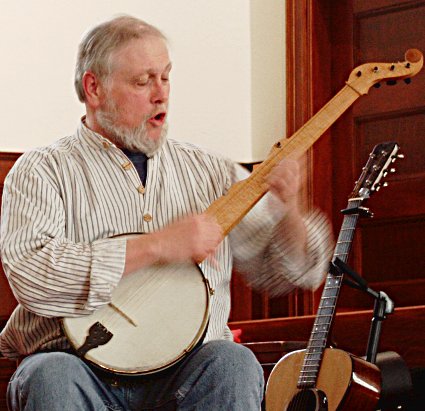 Bob Webb, Photo: Paul Cunningham
For more than 30 years Bob Webb has not only explored, loved, studied and played the banjo, he's also contributed to preserving the unique history of this most culturally embedded instrument. His museum exhibition, Ring the Banjar!: The Banjo in America from Folklore to Factory, and the exhibition monograph, catalyzed the modern golden age of the banjo.
Playing in the old-time "clawhammer" style, Bob treats the audience to music originating in Appalachia and the West, with a tip of the hat to minstrel-theatre style and conveys to our ears the sounds of African-inspired Black instruments that predate the modern banjo.
Bob will bring along the familiar banjo of today, as well as a gourd-bodied instrument, a minstrel-era replica banjo, an Appalachian fretless banjo, and perhaps more. Come hear the sounds of the happiest instrument -- and the saddest -- on Earth, and share in our national preoccupation with its distinctly American sound.
Harold Garde
September 1-20, 2009
Reception Friday September 4, 5-8pm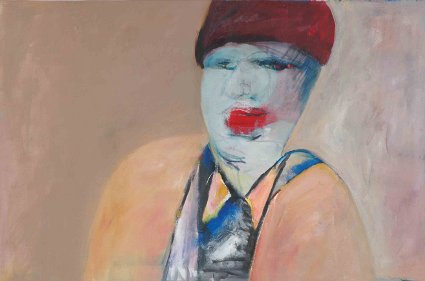 "Red Hat", acrylic on canvas 36" x 55"
Åarhus Gallery is proud to exhibit the work of acclaimed abstract expressionist, Harold Garde, from September 1st through the 20th and invites the public to join Harold on September 4th at 4pm at the Colonial Theatre in Belfast for a debut showing of the recut and updated version of the Dale Schierholt documentary film: Harold Garde: Working Artist-The Director's Cut, followed by an opening reception from 5-8pm at Åarhus.
Born in New York City in 1923, amid a growing interest around the country toward science within the following decades, what with the discovery of the planet Pluto and Amelia Earhart's solo attempt to circumnavigate the earth, and some other pretty crazy stuff in the ways of science, Harold did what many other intelligent, forward thinking Americans did and enrolled as a science major in college. But then three years in the Army Air Force changed something in Harold Garde and he went on to receive a masters degree in Art at Columbia University, moving on to work in commercial interior design and later into a career as art professor and teacher, retiring in 1984 to beautiful, you guessed it, Belfast Maine. Where, as is obvious if you were to visit his studio, he continued to paint and is still painting, dividing his time between his studios in Florida and Maine, Harold paints and paints.....and paints. Much to the delight we may add, to countless individuals and the notable collections of: The Print Library of the Metropolitan Museum of Art in New York, the Portland Museum of Art, Portland, Maine, the Farnsworth Museum, the Fine Arts Museum of New Mexico, the DeLand Museum in Florida, the Bibliotheque Nationale, Paris, France, and we could go on, but you get the picture. In fact, you get to see many of them ...at Åarhus September 1st through the 20th, 2009.
"I have an abstract expressionist background." Harold says, "It was the most exciting new development in art when I was a young painter." Much of that training remains. What's left behind are sophisticated techniques and equipment, choosing instead the simplest and most direct, rarely choosing to allow the non-figurative (the 'abstract' of 'abstract expressionism') to remain as the final work. Harold is interested in what the paint can do, no doubt, making marks and using colors that both express his thoughts and respond to his actions, though his subjects are ones that are readily recognized and "capable of being rendered with many variations." Whether manifested subtly or boldly, fragile or monumental: "I want my works to be visually exciting, capable of engaging the eye, the emotions and stimulating the mind of the viewer."
Åarhus partners had the favor and pleasure of visiting Harold Garde's studio and chose from a multifarious portfolio of work, pieces that range from the 1950's to 2009. We found we were drawn toward the striking colors and provocative shapes of his figures and faces, with a couple of chair and puppet images confidently placed into the mix. This is not a retrospective as much as it is a rollicking romp through a collection of outstanding paintings from what we consider one of Maine's finest abstract expressionist painters, at the top of his game.
The work of Åarhus partners Annadeene Fowler, Kevin Johnson, Mark Kelly, Richard Mann, Wesley Reddick and Willy Reddick, will, with all humbleness, also be on view. Åarhus Gallery is located at 50 Main St. Belfast, open daily 10am-6pm, and during Friday Art Walks until 8pm.
September 4th
4pm at the Colonial Theatre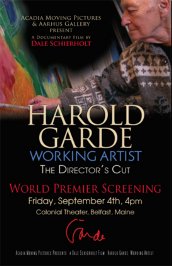 The Director's Cut, "Harold Garde Working Artist" to be shown at The Colonial Theatre, Belfast.
The Director's cut of the film, "Harold Garde:Working Artist" by the film maker, Dale Schierholt, will have a premier showing at the Colonial Theater in Belfast on September 4 at 4PM.
The original version of the film was shown at the Museum of Florida Art in DeLand, Florida earlier this year and it has been broadcast from major television stations in Florida. That version was shown at the Strand Theater in Rockland.
Schierholt recently shot additional footage in the Belfast studio of Harold Garde and has used the new material for this newly edited "Director's Cut".
Dale Schierholt is known for films made for the Farnsworth Museum. Those include "Lucy's Gift" about the origin of the museum. plus a Louise Nevelson film, "Awareness in the Fourth Dimension", a Robert Indiana film,"Star of Hope", and one on the installation of the Robert Indiana exhibition in Rockland.
A reception at Aarhus Gallery, 50 Main Street Belfast, will follow the film screening.
The Colonial Theatre is located at 163 High Street, Belfast.
Jay Gibson
Artifacts and Narrative
August 11-30, 2009
Reception was Friday August 14, 5-8pm
J.T. Gibson – Raison D'etre
I was born in 1958. I inherited my father's love of model airplanes and began work on numerous kits but could never finish any of them. Frustrated by having to follow directions (still a problem), I built my first successful glider from scratch and flew it off the back porch. Thus began a love affair with working with my hands and building and creating art. As a teenager, I constructed a darkroom in our basement and embarked on a journey with photography that continues today.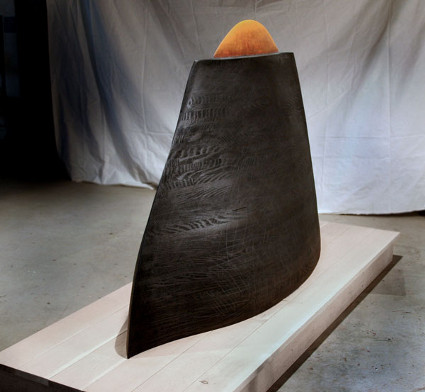 "Roaming Charge" Stack laminated Douglas Fir with Carbon, Graphite and Polychrome.
43.5" H x 68" L x 22" W
In 1977, I attended Pratt Institute, studying Photography and Sculpture. But after two years (couldn't follow directions), I left and got part time gigs as an assistant to many New York photographers. With one – Neil Selkirk – I became the printer of the Diane Arbus work. I went on to assist in the printing of Richard Avedon's portfolio for his first retrospective at the Metropolitan Museum of Art with master printer Randy Levensen. For five years I had a studio in New York, printing some of the greats of photography. I had a portrait show at the Small Walls gallery on the lower east side. One of my subjects was Andy Summers – guitarist for the rock band, the Police. I also printed the exhibition photos for his New York, London, Paris shows from his book of photographs, THROB.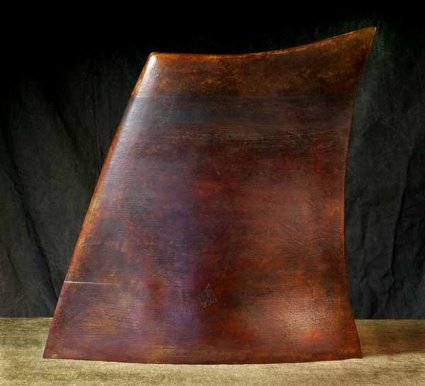 "Leading Edge" Cast Bronze
17.25 " H x 16.75" L x 4.5" W
During all this time, I was carving stone and building small works out of cast off parts of pianos and other detritus found in the streets of Manhattan, and participating in many group shows.
Wanting to branch out and further explore sculpture and cast bronze, I moved to Mercerville New Jersey to work at the Johnson Atelier Institute for Sculpture. There, I met many leading artists, and discovered the methods and techniques of sculptors like Joel Shapiro, Beverly Pepper, Julian Schnabel and others. I left after four years to start Gibson Design, producing architectural metal work and art furniture. Entre Libre in New York's Soho and Agnes Bourne in San Francisco represented my bronze art furniture. I also began a long association with New York designer, Clodagh, interpreting many of her designs.
I started experimenting with short films and writing plays. One of my full-length plays, RAGMAN'S ROLL, was a Panelist's Choice Award winner at the Edward Albee Theater conference in Valdez and went on to be a finalist for the O'Neil Playwrights Conference.
In 1998, tired of working with others' ideas (following directions again) and needing a regular paycheck, I founded a decorative bronze tile business – Metaphor Bronze Tileworks - that is a major art tile maker in America. I am currently the head designer, art director and sculptor for Metaphor.
I vacationed in Maine for ten years, and it always provided great inspiration and regeneration of the spirit. In 2004, I decided to move to this great landscape and set up shop. I bought a small farm near the coast and built a studio where I pursue my large-scale work in wood and bronze.
My work is in numerous private collections.
Interview with Jay Gibson
Charles Duback
July 21-August 9, 2009
Reception Friday July 24, 5-8pm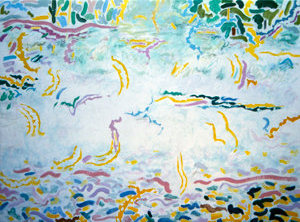 Ten Pound Fog by Charles DuBack
64.5 x 88.5", oil and wax on canvas
Åarhus Gallery is proud to welcome the venerable Maine painter Charles DuBack. Charles was born in 1926 in Fairfield, Connecticut and has been painting and living in Maine for over 40 years. Mr. DuBack began painting soon after WWll, having spent three years with the US Navy amphibious force in the Pacific. He has since become a respected American painter and has been featured in important shows on contemporary American painting including such prominent exhibitions as 'Recent Paintings' Museum of Modern Art NYC, 'The Biennial International Exhibition' at the Brooklyn Museum, and the 'Whitney Annual Exhibition of Contemporary American Painting'. Needless to say his paintings are housed in many museum collections and other public institutions throughout the country.
Mr. DuBack says this about his work: "...With every discovery my destination is always the same and I become younger and much more daring, bringing me closer to the honesty of childhood. I believe the following; feeling over formulation, the unknown over the known, the individual over society, the inner over the outer, which in turn allows me to create and to express what I have within myself."
With nature as a driving force, bold simplicity of brush stroke, sensitivity to color and abstract realist sensibilities, Charles DuBack's eighty three years of life experience and half century of practical evolutionary facility, brings to the canvas the straightforward dignity of a painters honest vision.
William Pint & Felicia Dale
Concert: Sunday August 2, 2009 7pm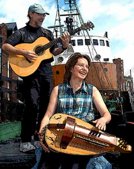 That's right, maritime music, nautical music - the music of the sea. Whether they be contemporary songs with the sea as a theme or shanties, (or chanties, if you prefer) the traditional work songs sung aboard the tall ships to organize the labor of the crew. Those crews were English, Irish, German, French, from the West Indies, The United States and other sea going nations, but the music itself was inspired by the oceans that link all these places together and cover two thirds of our planet. We take all of this as a source of inspiration for our music - giving it our own spin with guitar, hurdy-gurdy, mandolin and other exotic sounds. The result is an unusually energetic and exciting approach to folk music.
We have a tremendously good time playing this music and hope that you will enjoy listening and participating in it either at a live performance or through our recordings.
"William Pint and Felicia Dale rank among North America's most exciting interpreters of music based in the traditions of the British Isles and France... unconventional but spine-tingling... unique and mesmerizing "
Dirty Linen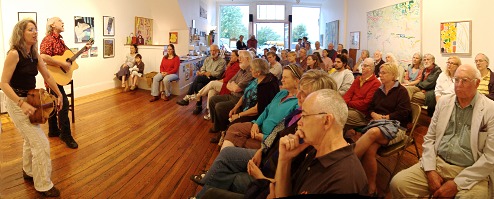 Pint and Dale rockin' the house. Photo by Al the webmaster
Kate Chapin & Lesia Sochor
June 30-July 19, 2009
Reception Friday July 3, 5-8pm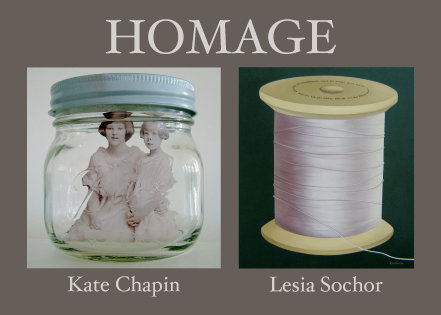 Kate Chapin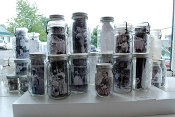 What strikes me is the fact that in our society, art has become something which is only related to objects, and not to individuals, or to life.
-Michel Foucault
Any work dealing with possibilities must lead to new work... What education finally serves us, if at all. There is a pause, a rose, something on paper. The small green shadows make the red jump out. That is not a telescope, nor do I have stars in my belly. Such displacements alter illusions, which is all-to-the-good.
-Lyn Hejinian, My Life
My work is an attempt to create or explore imagery that wound up in attics, old trunks or garbage heaps. Lost images, found images, silent images which somehow find voice. Stories find themselves through images & re-presenting of images found, saved and collected... that evoke through a proximity (or overlap or opposition or connection or repetition) tellings of our own stories.
The beauty and simplicity of utilitarian objects such as canning jars is that they themselves come loaded with story. The story of the glass they are made of and bale wire that holds the cap. The story of the hands that held them, cleaned them filled them, stowed them. The history of a culture of sweat and labor. The passing on of knowledge of sustenance, sustainability and process. The story of the growing, harvesting and preservation of foods. The story of the hunger that the contents of this object satisfied. The story of seasons and years gone by, rains, suns, good years, poor years.
The story of the woman in a kitchen full of heat and steam.
Photographs are, of course, vastly different objects from canning jars, but in many ways the intent is similar. Snapshots are taken by everyday people to preserve a moment or a loved one. These humble proletarian photos inevitably wind up in suitcases or trunks or flea market stalls. Their importance is now only what we can imagine from the fading images. People are nameless. The moments are lost. But at some point in time, on some sunny day when the shadows fell just so, somebody took a picture. Somebody in love with their new camera or the moment or the angle of light clicked a shutter, preserving time and space, light and shadow and that mysterious intangible, feeling.
The wonder to me is that the jars and the photos come together and through glass and shadow, light and refraction, the captured past and the observable present, combine to create a tangible pause. And I find myself waiting for the red to jump out. Will one of the people move or speak? It seems almost possible. The photo-in-jar is a displacement that alters illusions. And that, I am hoping, is all to the good.
Lesia Sochor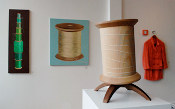 A spool of thread, a humble form of utilitarian simplicity holds a current of meaning that crosses all borders. Exploring this iconic image in oils has connected Sochor to family but also to the thread, which sews an endless seam around the world. From one generation to the next 'thread' metaphorically as well as physically has linked her to the past and continues its weave into the present. An accomplished artist and teacher, Sochor was born in Philadelphia where she received her BFA from the Philadelphia College of Art. She moved to Brooks Maine in 1979 where she has lived and painted for 30 years. Her watercolors and oils have been widely exhibited throughout the state in galleries, universities, and museums including Mathias Fine Art, Center for Maine Contemporary Art, Caldbeck Gallery, USM, the Farnsworth and Gilley Museums as well as the State House in Augusta. Sochor's artistic career includes curatorial work in Woodstock, N.Y., the Ellsworth Public Library, and the Marsh River Theatre in Brooks, involvement with the Ukrainian Art Ass. in N.Y.C., Co-founding the first gallery in Belfast, Me., and proliferating the ancient art form of the Ukrainian decorated egg throughout the state of Maine. Sochor has also taught privately and publically for twenty years.She is currently teaching the art program at the Toddy Pond School as well as chidren, teen and adult workshops in Brooks, Camden, Morrill and Belfast.
Åarhus Gallery Turns Two
June 2-28, 2009


Opening Friday June 5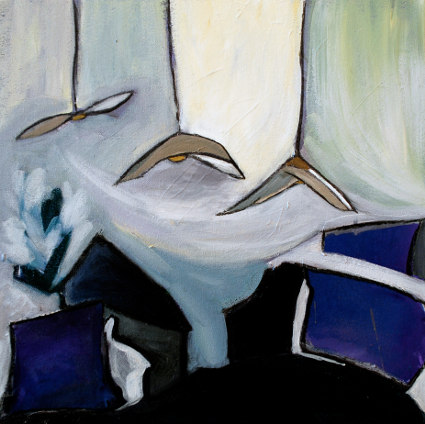 "Descendents", Acrylic, fabric, and charcoal on canvas by Annadeene K. Fowler

Sometimes two years can feel like ten or sometimes be like an instant... Åarhusians are thinking it feels like both as their second anniversary comes sauntering through the doors in June at DSL speed. It's been a long, short, slow, quick, couple of years for Åarhus Gallery, having now had 24 opening receptions, shown over 235 artists, shared 30 cases of wine, sliced 130 pounds of cheese, and participated in the mastication of over 30,000 little crackers (that last one was an exaggeration but you get the point). With many thanks and warm regards to the community, friends, supporters and visitors, the six artists of Åarhus Gallery announce their Second Anniversary Show, June 2-28th, and invite the public to join them for an Opening Reception June 5th from 5-8pm with more cheese, more refreshments and more crackers.
The indefatigable company of Åarhusians; Annadeene K. Fowler, Kevin Johnson, Mark Kelly, Richard Mann, Wesley Reddick, and Willy Reddick will enthuse artistically with a smørgasbørd of work in celebration of this timely event.
Jazz Open Mic Poetry
Friday, June 12, 2009 at 7 pm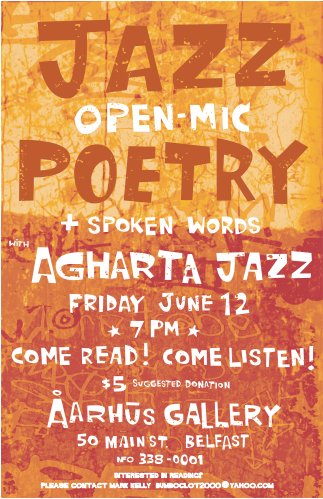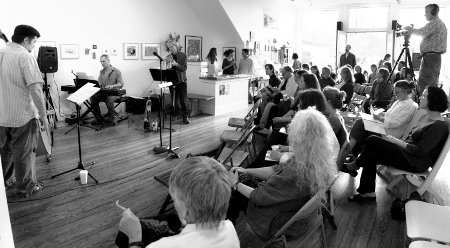 Photo: Al the webmaster
Aarhus Gallery invites poets, spoken-word performers and everyone else to an evening of live Jazz and open-mic reading on Friday, June 12. If you are a poet or spoken-word artist - come read! If you want to hear some of the mid-coast's most talented poets and musicians mix it up - come listen! The action starts at 7 pm.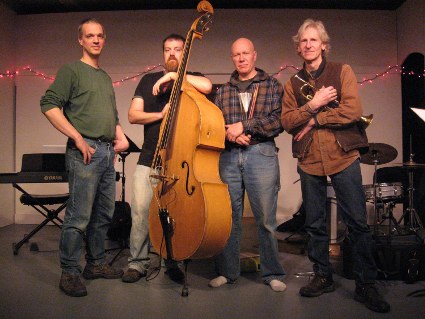 Agharta Jazz Band
Music for the event will be performed by Agharta Jazz. The quartet, founded by Union composer and pianist Tom Luther, was inspired by the late 1960s quintet of Miles Davis and VSOP. The majority of the Agharta Jazz repertoire is original and newly composed. As a composer, Luther takes his lead from such masters as Charles Mingus, Duke Ellington, and Thelonious Monk. Improvisation is a key element in the music of Agharta Jazz, and the band actively seeks to stretch beyond the basic musical forms and freely mix styles from other genres while maintaining the basic essence and spontaneity that is essential to jazz.
There will be a suggested donation of $5 for the evening. Anyone interested in participating in this event please contact Mark Kelly at bumboclot2000@yahoo.com. Aarhus Gallery is located at 50 Main St. in Belfast. For more info call 338-0001.
"Creatures"
April 30-May 31



Reception Friday May 1st, 5-8 pm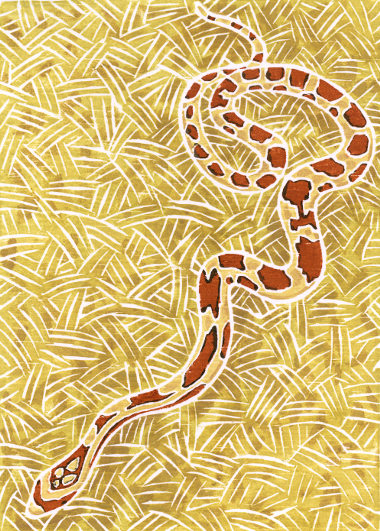 Corn Snake by Willy Reddick, White Line Woodblock Print
CREATURES: From dogs to dragons, goats to gargoyles. From Loch-Ness to lemmings, moths to mastadons, ants to Aunt Ethel's cockatoo. Featuring 22 Maine Artists from Portland to Belfast to Deer Isle.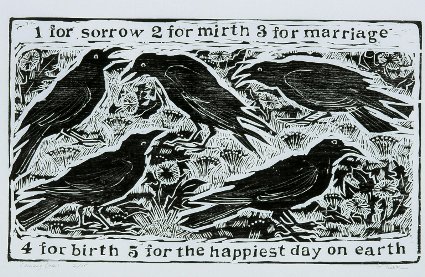 Image by Holly Meade
"Dross, Dregs, Leftovers and Junk"
April 2-26, 2009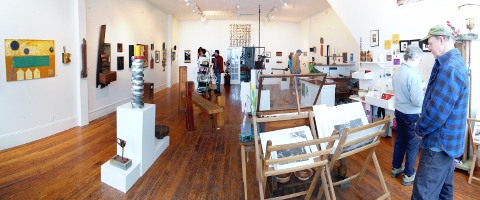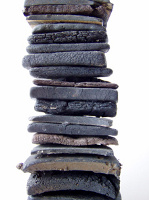 Mark Kelly
Trash. What to do with the stuff. We throw it away and in no time at all we have another barrel of it, right before our eyes, in our own kitchen, back hall, garage, pockets, and maybe too often in our minds. It's everywhere, in the streets, on the beach, it's omnipresent, and, it's at Åarhus from April 2nd through the 26th.
The show entitled Dross, Dregs, Leftovers & Junk features some of the trashiest art we've seen and includes the work of 20 Maine artists from Portland to Stonington, working in the realm of found objects, detritus, flotsam and jetsam.
Daniel Anselmi
Karen McDonald
Kate McLeod
Harvey Peterson
Norman Tinker
44N 69W: Radius Belfast
March 5-29, 2009
Reception: Friday March 6th, 5-8pm

Photo by Al the Webmaster
Aarhus Gallery to Donate to Food Banks and Celebrate Art in the Community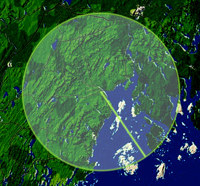 Please join Åarhus Gallery for an opening reception Friday March 6th, 5-8pm as the Gallery toasts our vast creative community by opening its walls to Maine residents of any age or training, living within a thirty mile radius of Belfast, to show their stuff - artwork, that is - in an all-encompassing show entitled '44N 69W: Radius Belfast'. From potters, painters, and welders to musicians, knitters and mobile makers, all work falling within the gallery's fairly liberal view of 'decency' will be presented on the walls, floor, or ceiling, as the case may be.
The show begins March 5th and runs until the 29th.
20% of all sales will be donated to local food banks.
RED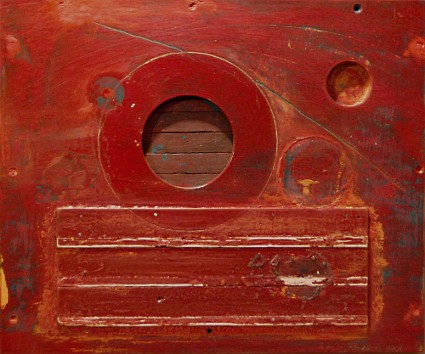 Wesley Reddick, The Give and Take of Red, Oil on panel, 19"x16"
February 5th- March 1st, 2009
Opening Reception: Friday February 6th, 5-8pm
Technically Speaking, red is a light induced color made up primarily of the longest wavelengths discernible by the human eye, but red has a passionate history as well. Red spans the spectrum in its emotional and psychological evocations and has been put to work throughout the centuries for social, commercial, political and religious needs, wanton desires and traffic control. Join us to see our unabashed results as we explore the facets of the color.
Jill Caldwell
Gabriella D'Italia
Ingrid Ellison
Mark Kelly
Ted LaFage
Marc Leavitt
Richard Mann
Dan Rocha
Tango
Saturday, February 14th, 2009 5:30-7:30pm
Join us for an evening with the elegant, soulful, and playful piano/vocal duo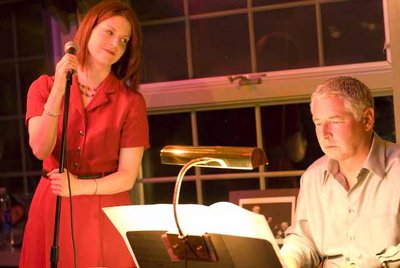 Photo by Georges Nashan
Tango is the piano/vocal duo of Kristen Burkholder, vocalist, and Martin Gottlieb, pianist. They specialize in songs from the great American songbook, that era from which jazz standards, classic showtunes and torch songs were born. On Valentine's Day evening, the theme is love -- lost and won -- with such melodies as "It Had to Be You," "Unforgettable," "Too Darn Hot," and "Love, You Didn't Do Right By Me."
♥ Suggested donation is $5. Tea, hot cider and snacks will be provided. This is the perfect prelude to the rest of your Valentine's Day evening plans.
" Kristen Burkholder's delivery is like watching a musical unfold before your eyes. Martin Gottlieb on piano is intimate and in complete sync with Kristen's vocals as he breathes in every note she sings. Yes, it does take two to Tango, and these two incredible musicians are not to be missed." ~ Joel T. Mann, General Manager of Stella's Jazz Nocturnal Restaurant in Castine and Program/Operations Director WERU-FM