Recent Events 2012
Mark Bell and Cathy Melio
August 28-Sept 30, 2012
Opening Reception Friday August 31, 5-8pm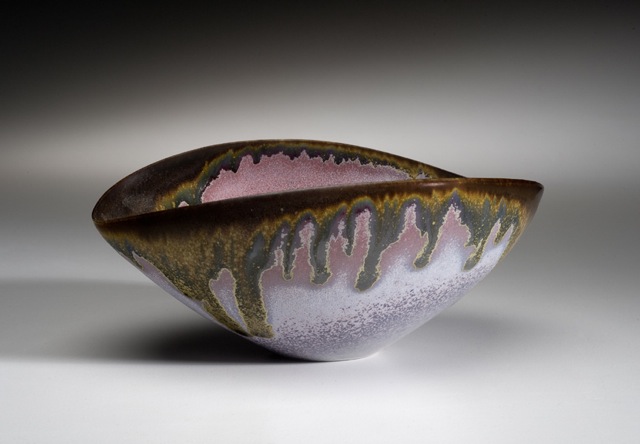 Mark Bell
Mark Bell of Blue Hill, Maine, works as a full time potter crafting fine porcelain vessels, delicately thrown, and finished with bright, rich glazes. After a wonderful experience as a scholarship student at Haystack, he decided to move to Maine and open a studio and gallery, which he has maintained since 1990. He received his B.F.A. from University of Wisconsin Oshkosh and his M.F.A. in Ceramics from Arizona State University. His work is in the permanent collection of the Currier Museum in Manchester, New Hampshire.
Cathy Melio
Cathy Melio is a painter and printmaker who lives in Stockton Springs. Her monotypes combine one-of-a-kind printmaking with watercolor painting. She is inspired by nature, gardening, music, color, and poetry. She has also worked in a range of other media including radio, pottery, jewelry, and fiber. Cathy is a Program Officer for Midcoast and Downeast Maine at the Maine Community Foundation in Ellsworth.
Artist's statement:
"Monotypes allow for a unique combination of control and spontaneity. I never tire of the medium because of the surprises that occur, which make it feel like an interactive art form. These one-of-a-kind prints are visual poems, dreamscapes, inviting viewers to read the images, bringing their own interpretations to the pieces. My hope is that, as with poetry, there is an element of mystery which allows for freedom and creativity in the interpretation ."
Cinder Conk
Friday, September 21, 2012 | 7:30pm
$12 Suggested Donation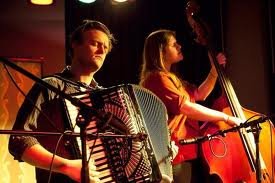 Åarhus Gallery is excited to welcome back the nuanced raucous Balkan/Gypsy folk dance music and the multidimensional Yiddish celebration anthems of Cinder Conk, Friday, September 21st at 7:30.
The duo has shared the stage with such entities as Beat Circus, The Toughcats, Slavic Soul Party and has wowed a packed house at Åarhus Gallery during the First Annual Free Range Music Festival.
Though intrigued and inspired by the rousing traditions of Gypsy/Roma cultures and Eastern European folk music, Cinder Conk is wholeheartedly Midcoastian. Matthew Schreiber is a nimble fingered accordion activist and his own compositions are stunning and affecting achievements in Mathew's commitment to promoting spiritual development through free-reed music. Xar Adelberg is an orthodox bullfiddle pilot committed to a musical revolution.
Suggested donation $12, light refreshments will be served.
Mike Fletcher
July 31-Aug 26, 2012
Opening Reception Friday August 3, 5-8pm
Mike Fletcher is a graduate of Montserrat College of Art in Beverly, Massachusetts, was a monitor at The Art Students League in New York and has been working in mid-coast Maine for the past twenty years, except for his time as a street artist in New York City. Primarily a painter, Mike refers to his work as visual poetry, without rhyme or reason. Using mostly found imagery including vintage wallpaper, as in his 'Insomnia' series, he creates montages in paint to entice the viewer into a dialogue of nonsense, or if they are willing; personal introspection. And then there are the cupcakes, an iconic image that he has used extensively for a decade. Mike's work has been shown throughout New England and has been collected by celebrity authors, restaurateurs and musicians.
Also showing will be the work of Aarhusians Kevin Johnson, Mark Kelly, Richard Mann, Wesley Reddick and Willy Reddick.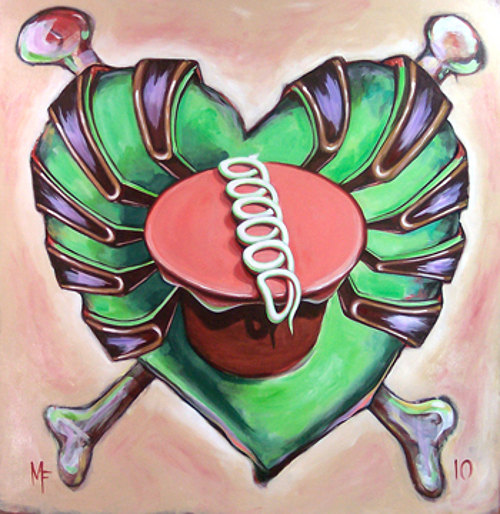 Sweet Heart (green)
acrylic on canvas
40" x 40"
Abbie Read
July 3-July 29, 2012
Opening Reception Friday July 6, 5-8pm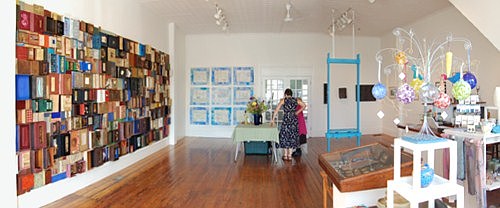 We are pleased to have guest artist Abbie Read of Appleton kick off the summer season with a mixed media exhibit for the month of July. Abbie has taught painting, drawing, printmaking, 2-D and 3-D design, and presently teaches workshops on artist books, bookbinding, altered books and art journaling. She says, "I like to respond to the world metaphorically with imagery from the natural world and through the use of found objects: to conjure associations and trigger memories..."
The installation, Library, takes two years worth of individually crafted pieces, many in book form, and puts them to use as components in a large relief collage. While the approach to crafting the individual parts is formal, presenting mostly mundane found objects as treasures, the overall impact of the diverse collection as a composition, curiously imparts a more personal meaning. The beauty and allure of humble, old things with surfaces that reflect only a nebulous past and indeterminate age may still be understood. The juxtaposition of their colors, forms and textures add up to something greater and tell a bigger story than the sum of their parts.
Lucky, is also a collage, representing in paper, a quilt; emblematic of home and comfort. Abbie asked friends and family to participate in this piece by relating to her stories of a time or an incident when they felt particularly lucky. This idea grew out of her personal cathartic search to identify and explain the unexplainable.
Also showing will be the work of Aarhusians Kevin Johnson, Mark Kelly, Richard Mann, Wesley Reddick and Willy Reddick.
Artist Talk



On Saturday July 28th at 11:30 in the gallery, as part of the Belfast Bound Book Festival, Abbie will be giving a brief artist talk about her exhibition. Later in the day, at 2:00 also at Åarhus, she will be teaching a workshop entitled "Hand Crafting Your Own Book". Participants will make a small blank book with a sewn binding. The workshop will cost $30 per person including materials and will run about two hours. Please call the gallery at 338-0001 to register. Class size is limited to 8 people.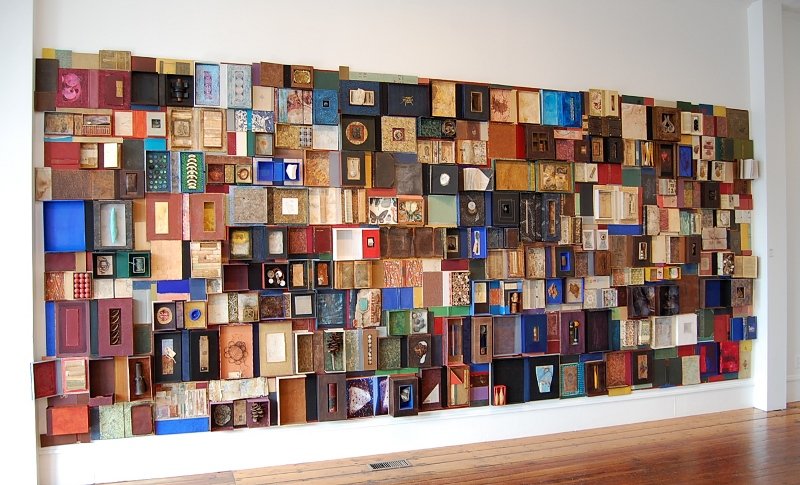 View Slides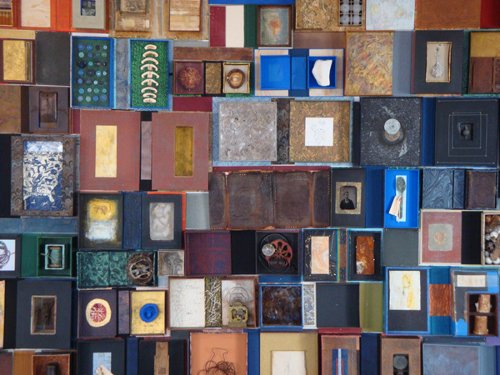 Library (and other Endangered Species)
detail, mixed media, 18' X 8'
Åarhus Gallery Celebrates its Fifth Anniversary
May 31-July 1, 2012
Opening Reception Friday June 1, 5-8pm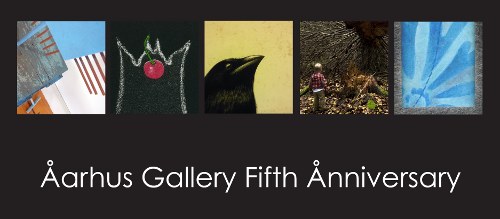 With Åarhus coming up to it's fifth anniversary, the partners take a Belfast moment and look to the contemporary significance of the number five; motion, expansion, adventure,... and we realize we haven't lived up to five very well at all. We haven't moved, our partners have dwindled somewhat, and although this endeavor has been quite an adventure for us, we don't think we come across as terribly 'adventuresome'.... do we? On the other hand, classically, the number five draws our attention to the wonder of life, and invites our appreciation of this crazy world, the chaos around us: the human condition. In this way maybe we can hold our chins up to five. Over these five years, hundreds of artists have shown their view of the world on these white walls and this heart pine floor. We've been witness to many smiles and some tears as well. And we hope that the five senses have at least been paid tribute to. Though we'll admit, the sense of smell has been hard to exhibit unless you count the nose of the countless bottles of wine from the Co-op we've poured.
At any rate, in celebration of our fifth anniversary, we invite the public to join us, with all five senses, Friday June 1st for an Anniversary show reception, from 5-8. Come, smell the wine, meet and converse with local artists and art appreciators, and a whole bunch of normal people too!
The show runs from May 31st through July 1st and features artworks by Åarhus partners: Kevin Johnson, Mark Kelly, Richard Mann, Wesley Reddick and Willy Reddick.
View Slides
William Pint and Felicia Dale Return to Åarhus
Saturday June 23, 2012 at 7:30
$10 Suggested donation
Light refreshments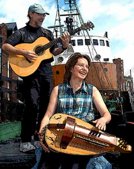 Åarhus Gallery is very happy to welcome back, the exceptional, William Pint and Felicia Dale, to once again dazzle and delight listeners with their masterful interpretations of music of the sea. Traditional and contemporary, evocative, moving and sometimes haunting, this Seattle-based duo will take the audience on a lyrical voyage around the world and ne'er will they long for home, as they sing along, hear the wind in the rigging, and pine for love in sultry harbors.
Along with Williams energetic guitar style and evocative voice, one of the attractions of their performances is Felicia's hurdy-gurdy, an instrument whose origins date back to the 12th century (basically a hand cranked violin with a keyboard) which, in Felicia's practiced hands, can gently roll like a deep sea swell, or wail like bagpipes and send you 'round the briney Horn.
Dirty Linen Magazine says,
"William Pint and Felicia Dale rank among North America's most exciting interpreters of music based in the traditions of the British Isles and France... unconventional but spine-tingling... unique and mesmerizing "
Sing Out! Magazine says,
"…You won't regret setting sail on a musical journey with Pint and Dale"
Pint and Dale have performed together around the world for over twenty years now, collecting songs from the British Isles, the coastal regions of France, the Canadian Maritimes and the U.S. Nine albums to date showcase their powerful harmonies and dramatic instrumental work including guitar, mandolin, fiddle, penny whistle, and hurdy-gurdy.
Come and share life at sea with them for a few spellbinding hours, Saturday June 23rd at 7:30pm. Suggested donation $10, refreshments will be served, and CD's will be available for purchase.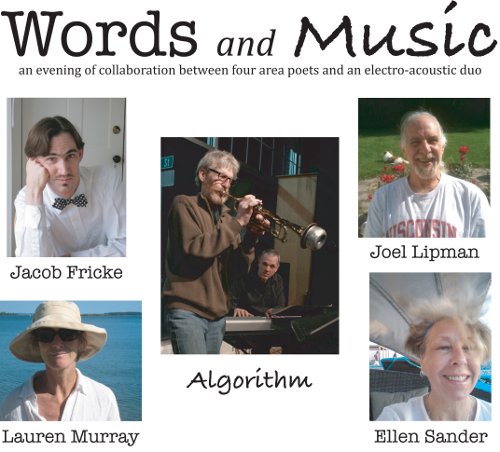 Words and Music
Saturday June 9, 2012 at 7:30
$8 suggested donation
Light refreshments
"Words and Music" is an evening of collaboration between four area poets and the electro-acoustic duo Algorithm. The wordsmiths for the evening are Ellen Sander, author of Back to the Garden and the blog Crackpot Chronicles, Lauren Murray, author of the recently published Hear if You Dare, Joel Lipman, author of Chicago You Got A Wide Stance and professor at University of Toledo, and current Belfast Poet Laureat Jacob Fricke, and author of This Book of Poems You Found.
Algorithm is a new electro-acoustic duo comprised of Mike Whitehead, trumpet and fluglehorn, and Tom Luther, keyboards. The basic form of the group is supplemented by substantial use of electronic instruments, both live and sequenced. Both musicians are experienced jazz performers, and use their improvising skills in the context of modern electronica and ambient music. The music itself is an amalgam of improvised material and electronic soundscapes crafted by both performers.
A Murder of Crows
May 3-27, 2012
Opening Reception May 4th, 5-8

Holly Meade
Seven Crows
woodblock & linoleum print
48" x 17"
It may have taken a congress of baboons to come up with 'murder' as the collective noun for a flock of crows, but knowing how congress can act like a colony of vultures at times, it's not surprising. What also may not be surprising is the range of interpretations the precocious crow can elicit, which is likely why they've found a place in myth, magic and folklore for centuries now. Indeed crows are intelligent, social creatures, often displaying more sense than some of us, and family values as strong as any warren of wild turkeys. Is all this why Åarhus is doing a show on crows?....you betcha. Not to mention we think it will look really great in here with a murder of crows on the walls.
Featured artists include; Susan Amons, kdb-Karen Dominguez, Sallie Findlay, Stephen Florimbi, Kevin Johnson, Mia Kanazawa, Mark Kelly, Mark Kindschi, Elena Kubler, A. C . Kulik, Richard Mann, Holly Meade, Ivan Rasmussen, Rebekah Raye, Abbie Read, Wesley Reddick, Willy Reddick, and Susan Webster.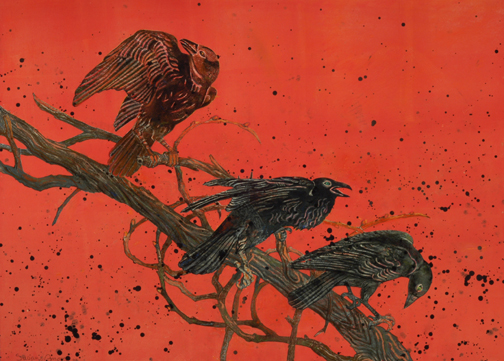 Susan Amons
Crows Sunset II
monotypes with pastel
28"x 36"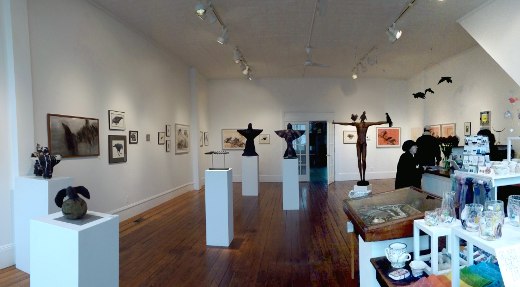 Ameranouche in Concert
Friday May 11, 2012 at 7:30pm
$12 Suggested donation
Light refreshments
CD's will be available for purchase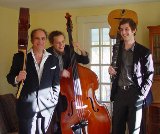 Ameranouche (pronounced uh-MARE-uh-noosh) features two French acoustic Gypsy jazz guitars and upright bass, and is a winner of Best of New Hampshire awards as well as being veterans of the famed Newport Jazz Festival. The group tours nationally, year-round, and has released two albums, largely of original music inspired by legendary Gypsy guitarist, Django Reinhardt. National Lampoon director, Kevin Wheatley, calls Ameranouche "the new sound of America". After hearing these folks sail through a melodious tune with such love, musicality, and signature, jaw-dropping velocity, you'll be hard pressed not to agree. www.ameranouche.com has plenty of tunes to check out -- if you've never experienced hot acoustic swing music, now's your chance to fall in love with the joyful, uplifting, and dance-inducing sounds of Gypsy jazz.
Tom Luther Quintet
Friday May 25, 2012 at 7:00
$10 Suggested donation
Light refreshments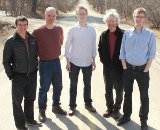 Åarhus Gallery welcomes back Tom Luther and his band (formerly Luna Madidus) for a concert on Friday May 25th at 7:00pm. The Tom Luther Quintet's sound is modeled after such jazz icons as Charles Mingus and Thelonious Monk, as well as the "downtown" style of NYC as embodied by such groups as The Lounge Lizards and trumpeter Tom Harrell. Throughout its two-year history, the group has grown from a quartet, to a quintet with vocals, to its current two-horn quintet lineup. The band has performed live on Public Radio twice, had airplay on WRFR and MPBN, and has played in Portland and Lewiston in addition to its home base in the mid-coast.
Tom Luther, the group's composer and arranger holds to a core philosophy that all music carries similar messages and what separates genre and style is simply a matter of language. Luther's music reflects the harmonic and rhythmic language of jazz as well as formal aspects of European classical music, and shows the influences of ambient music and the avante-garde.
In addition to the band's veteran members, trumpeter Mike Whitehead and pianist Tom Luther, a trio of talented young lions rounds out the ensemble. The bass player, Noah Fishman, is a Silver Prize winner for the 2011 MMEA All State Jazz Instrumental Competition, as well as a Bay State Chamber Young Stars Award Winner from 2010. Gideon Forbes, tenor saxophone, is a recipient of the outstanding jazz solo award at Festival Disney 2010 and has performed with both the PJO and Fogcutters Big Band. Jacob Forbes, drums, is a winner of the Bay Chamber Concert's Nathan E Corning Jazz Prize, and has performed with the Maine State Musical Theater and the Windham Center Stage Theater.
A $10 suggested donation at the door includes cider, tea and snacks.
BOTANY OF DESIRE
April 5th-29th, 2012
Opening Reception Friday April 6th, 5-8pm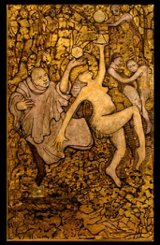 Joe Ascrizzi
Dance of Eros, Logos
sepia drawing on incised, water-gilded gesso panel
6" x 10"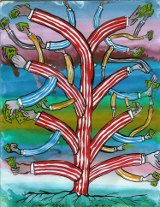 Kenny Cole
Patriotic Tree
gouache on paper
8 1/2" x 11"

The partners at Åarhus are familiar with Michael Pollen's book 'The Botany of Desire' and although we all affectionately embrace the subject matter, this show we think could have very little to do with potatoes, tulips, or maryjane. We just really like the title... because of what else it brings to mind. For example; wasn't this whole crazy mess the world is in started supposedly by a young squirrely couple in a garden? Okay, one of them bit an apple ... but now look what's happened! Sure botany had something to do with it, but desire, it would appear was the key element, the prerequisite, the virile catalyst, for the growth of the human species and therefore all that we've accomplished, and have managed to screw up along the way. Isn't it desire for change, desire for a better place, desire for love, which is the driving force behind poetry, music, invention? Isn't it the desire for power that drives narcissists to politics, to lead the masses to liberty or ruination?! Isn't it the desire to connect to, to consume ourselves into the human body that drives us to all measure of art and even madness? Desire, and how it can bloom and grow like a succulent plum or become a vine, wrapping its host with a suffocating grip; desire, the botany of DESIRE, is what Åarhus is talking about: the thoughts, the images, the objects, the fruits... of our desires.
Featured artists include; Joe Ascrizzi, Nancy Morgan Barnes, Kenny Cole, Al Crichton, Maryjean Crowe, Bill Davis, David Estey, Jay Gibson, Kevin Johnson, Mark Kelly, Richard Mann, Ed Moffitt, Joan Proudman, Wesley Reddick, Willy Reddick R. Keith Rendall, Mike Silverton, James Strickland and Seth Whited..

Belfast Free Range Music Festival
Saturday April 28, 2012

The Belfast Free Range Music Festival is a grassroots, volunteer powered celebration of original music that takes place annually in downtown Belfast, Maine. Participating musicians travel from near and far, representing a wide range of genres and musical backgrounds, everything from rock to bluegrass, a capella vocal groups to hip hop. In its first two years, the festival has hosted 58 local, regional and nationally touring acts (roughly 175 individual musicians) in multiple venues including our local movie theater, Legion hall, arts center, galleries (including Åarhus), and even a church sanctuary. The 2012 festival (the event's third year) will follow the same model, presenting an all-new lineup of musicians from multiple genres.
http://freerangemusicfestival.com/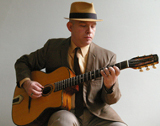 David Clarke of Gypsy Caravan
11:45 Gypsy Caravan
Gypsy Caravan performs in the gypsy jazz, manouche style and was formed in 2011 in mid-coast Maine. The group builds upon the traditions of Django Reinhardt's music while getting inspiration from modern players such as Bireli Lagrene, John Jorgenson, Robin Nolan and Frank Vignola. Featuring David Clarke, lead guitar; Dan Clarke, rhythm guitar; Wayne Delano, saxes; Ezra Rugg, acoustic bass.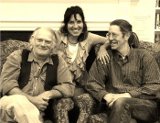 L-R Will Brown, Kat Logan, Jim Loney
1:45 Meteora
Meteora, which translates to "suspended in air," is a collaboration of Kat Logan, Jim Loney, and Will Brown. Their performances are highlighted by tight three part harmonies along with a wide repertoire of originals and traditionals. Kat Logan is a singer-songwriter with a clear, inviting voice and has performed folk, country and blues music throughout New... England for the past 20 years. After performing Delta Blues and R & B for many years, Jim Loney was attracted to Cuban Son. Singing and playing with Meteora, Loney draws upon his diverse musical background and interests. Will Brown has been playing and singing folk music around fine campfires and in concert since 1963. Brown has been recording with Gordon Bok, Cindy Kallet, Grey Larsen, and Anne Dodson over the past 30 years. Both Brown and Logan contributed to the 2009 Grammy Nominated Folk Album: "Singing Through The Hard Times – A Tribute to Utah Phillips."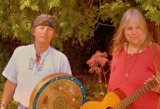 Crow Suncloud and Diana Ramsdell Newman
3:45 Timbered Lake
"Timbered Lake, an acoustic duo, features a synthesis of spoken word and song composed by poet-singer Crow Suncloud and singer-songwriter Diana Ramsdell Newman. Timbered Lake concerts have been featured at libraries, coffeehouses, performing arts venues, Earth Day festivals, solstice events, water coalitions, climate change conferences, Native American gatherings, ecumenical gatherings, community and social justice concerns, and educational venues. Diana's guitar joins with Crow's indigenous hand drums and other percussive instruments, to accompany inspirited, relevant, soaringly harmonic lyrics informed by respect for the earth and for experiential knowledge, reclamation of stewardship values, and promotion of individual and community healing."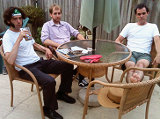 L-R Jerry DeCicca, Tyler Evans and Canaan Faulkner.
5:45 Black Swans
Jerry DeCicca and The Black Swans have been winning hearts with their highly unique and beautiful folk sound since the early 2000s. Critically acclaimed by Pitchfork, Dusted, and many others, The Swans are on the road full-time these days — touring over 200 dates a year. They've released multiple albums, a split 7″ with Bonnie "Prince" Billy and have toured all over the country. Ladies & Gentlemen, this is folk rock from the existential capital of the world.
Putnam Smith and Gabriel Zacchai Concert
Saturday April 7th at 7:30
$8 suggested donation
Light refreshments
CD's available for purchase
Putnam Smith
Portland, Maine
"As quirky and genuine as the state from which he hails" -Dirty Linen Magazine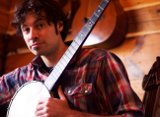 Putnam Smith, who hails from Portland, Maine, could be an old-world troubadour fresh from the 19th Century. After all, he lives in a log cabin, plays his Grandfather's banjo, and has printed up the jackets of his new CD on a 1901 Pearl Letterpress. Yet this rootsy multi-instrumentalist songwriter (he also writes and performs on guitar, mandolin, fretless banjo, and piano), steeped as he is in old-time Appalachian traditions, is very much a storyteller for the modern age. Putnam first came to national attention with his 2009 release, "Goldrush," which went to #5 on the national Folk & Bluegrass DJ Charts (and made it on 6 "Favorite Albums of 2009" lists). His latest release, "We Could Be Beekeepers" shot right up to #2 the month it was released, charting 3 songs in the top ten (www.folkradio.org). Selected as an "Emerging Artist" at the Falcon Ridge Folk Festival (2011), and noted as "One To Watch" (Rob Reinhart, Acoustic Cafe), Putnam has begun to establish himself as an acoustic tour-de-force not only in his hometown of Portland, but as a nationally touring musician as well. Putnam puts on a show that makes people want to do a little foot stompin' one moment, then curl up all intimate-like with a glass of red wine, the next. As Maine's indie newspaper the Maine Edge says: "He's that rare breed of musician that manages to sound like a throwback without ever coming off as dated."
www.putnamsmith.com
www.youtube.com/putnamsmith
www.sonicbids.com/putnamsmith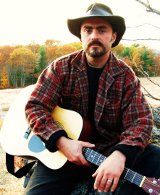 Gabriel Zacchai has been writing, recording and performing original music for over 20 years. He has recorded over 102 completed songs since 1988, 95 of which have been recorded on 7 Albums and collected works. His influences combine Neil Young, Mason Jennings and the old Bluegrass masters with the likes of Stevie Ray Vaughn, Leadbelly and the North Mississippi All-Stars. Zacchai's repertoire ranges from upbeat and catchy folk to hard-driving soulful blues and rock. His work has been featured on WMPG, WERU and MPBN radio, as well as KXCI in Tucson, 'In Tune by Ten' with Sarah Willis, and in Maine Home and Design Magazine. He currently lives in Mid-coast Maine with his Wife, Son and neurotic Border Collie.
4th Annual "44N 69W: Radius Belfast" 2012
showcases local artists and supports food pantries
March 1- April 1, 2012
Opening Reception Friday March 2, 5-8pm
Aarhus Gallery to Donate to Food Banks and Celebrate Art in the Community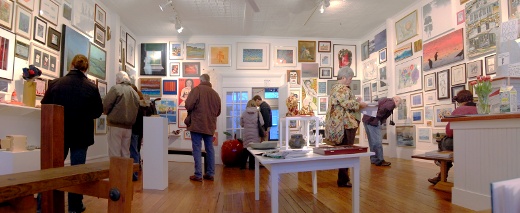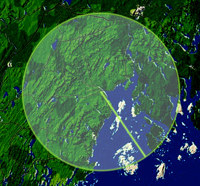 Please join Åarhus Gallery for an opening reception Friday March 2nd, 5-8pm for the kick-off of the fourth annual '44N 69W: Radius Belfast' Show. An all encompassing exhibition celebrating the local creative zest of Maine residents of any age or training living within a thirty mile radius of Belfast. The show runs from March 1st through April 1st and will be packed with potters, painters, welders and musicians, knitters, sculptors and mobile makers. Artworks celebrating and illuminating this vast creative community will be on view and for sale with a charitable percentage of sales and entry fees going to food banks within a thirty-mile radius of Belfast. Last year over one hundred and seventy-five pieces of art were exhibited to the delight of hundreds of visitors, friends and loved ones with consequent sales enabling a generous donation to the Good Shepherd Food Bank.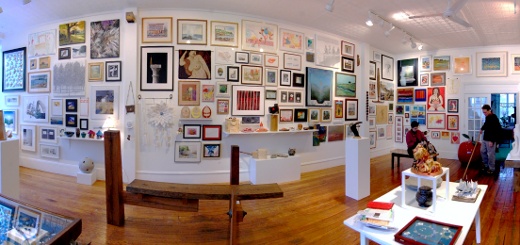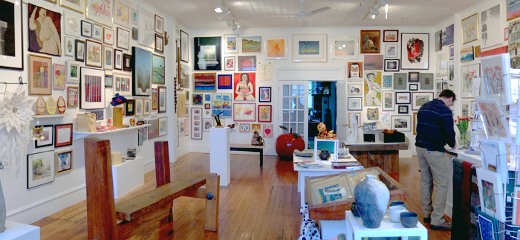 BLUE
FEBRUARY 2-26, 2012
OPENING RECEPTION FRIDAY FEB 3rd, 5-8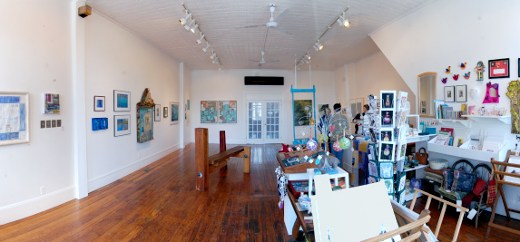 Aarhus Gallery and friends will be invested with the color blue in a show not surprisingly titled, 'BLUE', from February 2nd through the 26th with an opening reception Friday February 3rd, 5-8pm.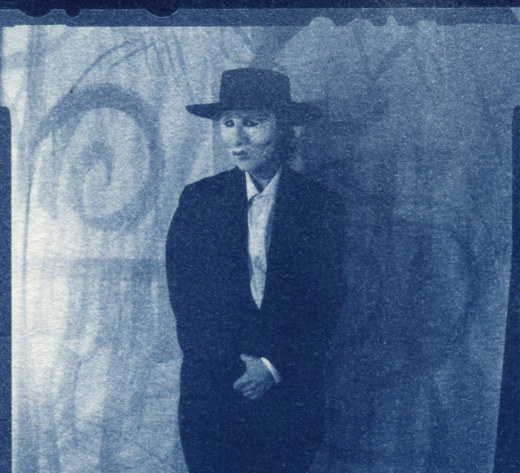 Richard Mann, Lest You See Me, cyanotype, 4" x 5"
Poor blue... it was not recognized as a color in its own right in antiquity. It was thought of as related to black, a kind of grey if you can believe it. For a time there was even a blurring of the distinction between blue and, of all things, yellow. How odd then that in the late Middle Ages the celebrated and precious ultramarine had become so venerated it was considered emblematic of divine purity. No doubt the fact that only nobles and the well-connected being able to afford such piquant luxury at the time had something to do with that. Today of course every Tom, Dick and Harriet wears blue jeans and can have blue hair..... such blasphemous profligacy! And the mystery and melancholy of blue is more than color as you may have known: Yves Klein says, "Blue is the invisible becoming visible...." and Kandinsky explains, "The power of profound meaning is found in blue....."
Featured artists that will be exploring the pigments and profundities of blue include; Daniel Anselmi, Bernice Arthur, Maryjean Crowe, Heidi Daub, Ingrid Ellison, Annadeene Fowler, Terry Hire, Charlton Hudson, Kevin Johnson, Mark Kelly, Marc Leavitt, Eric Leppanen, Richard Mann, Cathy Melio, Dina Petrillo, Ben Potter, Abbie Read, Wesley Reddick, Willy Reddick, Rebecca Rivers, Aviva Shaw, and Matt Wheeler.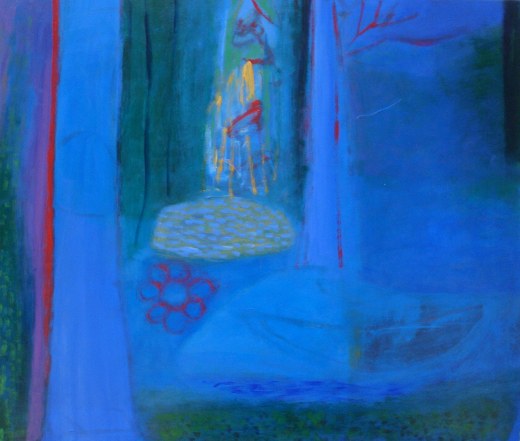 Heidi Daub, Lucky In The Deep, acrylic on paper, 19" x 22"
Under Milk Wood comes back to Åarhus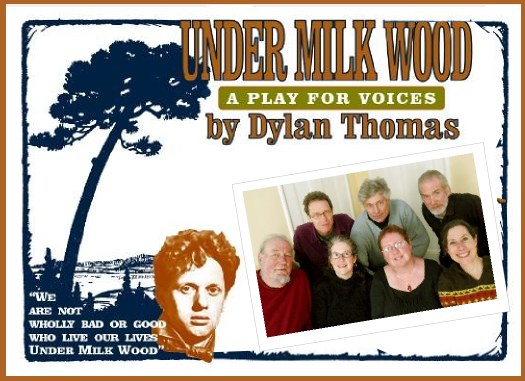 The classic mid-20th century "play for voices" by renowned Welsh poet Dylan Thomas, will be performed Friday and Saturday on January 27 & 28 at 7:30 p.m. and Sunday, January 29 at 3:00 p.m. at the gallery.
Under Milk Wood is a day in the life of a small welsh seaside village where, "…less than 500 souls inhabit the three quaint streets and the narrow by-lanes and scattered farmsteads that constitute this small, decaying watering place which may, indeed, be called a 'backwater of life' without disrespect to its natives who possess, to this day, a salty individuality of their own…"
The voices of 60-odd characters will be read by Larason Guthrie, Lisa Goodrich, Peter Conant, Richard and Beverly Mann, Jennifer DeJoy and Michael Fletcher under the direction of Guthrie. The performance will last approximately 90 minutes with no intermission. There is a suggested donation of $7 at the door.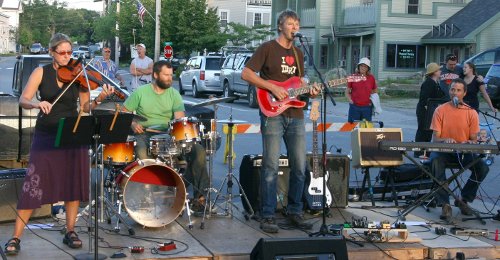 Local Rock Band Rural Electric Announces CD Release Party

On Saturday January 14, 2012, local recording group Rural Electric will play original, alternative rock music to celebrate the release of its third cd, "Fess Point", at Åarhus Gallery in downtown Belfast. Opening the show will be Alex McGregor of Ponies in the Surf.
Since its first release in 2002, Rural Electric (Alan Gibson, piano, guitar, vocals; Andrew Carpenter, guitar, bass, vocals; Mike Bahner, drums; Amy Arnett, violin) has seen some changes in lineup and instrumentation but has not strayed from its output of quirky, pop-infused rock songs that treat lost love, family history, and the nature of reality with ironic tongues in cheek. Fess Point was recorded and engineered by Rushmore DeNooyer of Southpaw Studios who added his own artistic and technical signature. DeNooyer will join the band for a few tunes on the 14th.
Opening act Ponies in the Surf has garnered much-deserved critical acclaim for its original, Latin-tinged pop songs, melodic guitar arrangements and delicate harmonies. Alex McGregor is a Belfast resident who is often joined on stage by his sister Camille.
The cd release party opens at 7:00 p.m. and requests a suggested $8 donation to benefit Åarhus Gallery and the musicians. The gallery is located at 50 Main Street, Belfast, 338-0001.