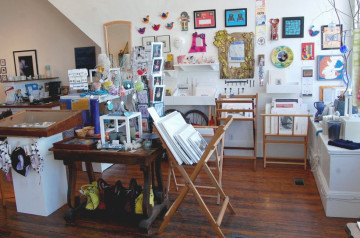 A section of the gallery is devoted year round to fine crafts of Maine. The current display includes pottery, jewelry, silk and knitted scarves, turned wood vessels and bowls, mirrors, blown glass, handmade books, leather bags, wire and bead baskets, quilts, notecards, a selection of music by local musicians and books by local poets. There are also fascinating photos of Maine and beyond printed from antique, glass plate negatives chosen from the extensive collection at the Penobscot Marine Museum.
Our craft section is continually growing and presently includes work by;
Susan Amons, Suzanne Anderson, Bernice Arthur, Dan Beckman, Mark Bell, Phyllis Buchanan, Kate Chandler,  Maryjean Viano Crowe, Bill Davis, James Deane, Gabriella D'Italia, Maureen Farr, Sallie Findlay, Kathleen Newton Foote, Annadeene Fowler, George Fowler, Free Seedlings Band, Carol Gater, The Gawler Family, Mary Hall, David Jacobson, Jeffrey Jelenfy,  A. C. Kulik, Betsy Levine, Carol Logie, Richard Mann, Sandy McGaw, Kate McLeod, Holly Meade, Cathy Melio, Kate Mess,  Metaphor Bronze, Leslie Miller,  Nire Art, Hanako Nakazato, Toki Oshima, Leila Ostby, Jeanne Serond Perkins, Jane Ploughman, Alex Portela,  Robbi Fritz Portela, Rebekah Raye, Abbie Read, Wesley Reddick, Willy Reddick, Julie Rose, Erica Schlueter, Toussaint St. Negritude, Tandem Glass, Mary Trotochaud, Troy Howard Middle School Garden, Nance Trueworthy, Larry Unger, Simon van der Ven, Glen Veevaert, John Vincent, Whiffletree, plus the Eastern Illustrating & Publishing Company Collection.