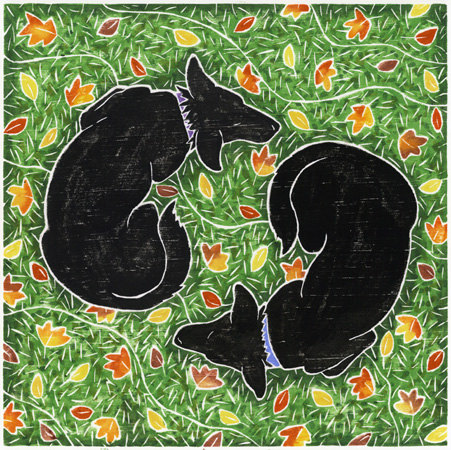 Willy Reddick, (nee Phyllis Arthur) born in Boston, grew up in a family of artists in Brockton, Massachusetts and was always encouraged to make art. After studying at the Massachusetts College of Art, she began immediately working and living as an artist, professionally as a painter and later becoming known for white line woodblock prints.
Willy, known for her meditative images of sleeping dogs and cats on busy, vibrant patterns, regularly shows her work in galleries and museums around the New England area. Her work is in numerous private collections and institutions including the New Bedford Whaling Museum. She designs and manufactures her own line of Willy Wires jewelry and is a freelance designer, handpainting prototypes for the toy industry.
Since moving to Belfast Maine in 2004 with her husband Wesley, a sculptor, she could not be happier or more inspired.
"In 1993 on a day trip to Provincetown, I discovered the white line woodblock print. It was a Blanche Lazell that caught my eye, and inspired me to learn more about the technique. I like the method because of the active process of cutting the block, the application of gouache, and the printing of it with a wooden spoon".
The method of color printmaking known as the "Provincetown Print" (also called white line woodblock), developed in Provincetown Massachusetts in 1916, is a color woodcut in which the line drawing is cut into a single block. Gouache is applied with a brush, one area at a time, the attached paper is laid down and rubbed with a wooden spoon to print that area only, and so on. The result is a unique print with a painterly quality in which the line drawing remains strong and integral to the finished piece.
Willy's presentation at the Pecha Kucha Night that took place on April 11, 2014 at Watts Hall in Thomaston. Video by Ned Lightner
Website~ www.willyreddick.com