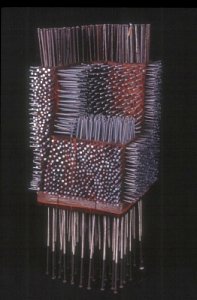 Starting out in illustration at the Massachusetts College of Art, it soon became apparent (despite receiving honors in design) that my affinity for the three dimensional world suited me best as sculptor rather than draftsman.


After a brief jaunt at the Royal Danish Academy of Fine Art in Copenhagen, under the astute eye of the architectural sculptor William Orscov, I began a voracious self guided treck to build everything that posed a reasonable challenge. From mechanical kinetic sculpture to houses, to prototype miniatures, from remote control T.V. built-ins to large scale museum display cases and public art installations. For years I was a self employed woodworker and preparator in the Boston area working for private clients and institutions such as the Kendall Whaling Museum, New Bedford Whaling Museum, Fuller Museum of Art, Boston Society of Arts and Crafts, Boston Museum School, Tufts University gallery, and the Haffenreffer Museum of Anthropology. This afforded me the unusual opportunity to be exposed to and handle not only many disciplines of traditional and modern art, but also exotic and rare artifacts from around the world. These experiences have led me to, if not a better understanding, at least a deeper appreciation for the human propensity to make things, and how a single object can exude magical qualities from the shallows and depths of human emotion and reason.
My current work explores the things we crazy humans make. Of particular interest to me are the artifacts and fragments of early cultures. Responding to my emotional memory of viewing and handling artifacts from anthropological dig sites, the stage is set for the virtual discovery of artifacts from the random excavation layers of the dig sites in my imagination. For me, these new artifacts lay somewhere between the comfort of the somewhat familiar and the uneasiness of the unexplained. Within this, they help me ponder questions.
What do the things we make say about who we are? What do the explanations of the things we don't understand say about our limitations? Do we limit ourselves by trying to identify who we are and why and what it is exactly that we humans do? Maybe we have a good idea of who we were from our fossil record, but are we the same humans we were 35,000 years ago when we made our first musical instruments? Are we different human beings since we built our first fire, our first atomic bomb, or our first nano-mechanisms that may be destroying us though they dispatch germs in our lunch box or protect us from sunburn? Sometimes I just don't know what to make of things, and other times, I just know to make things.
Thank you for your interest,
Wesley Reddick
Belfast, Maine
Website~ www.wesleyreddick.com