July 30- September 1, 2013
Opening Reception Friday August 2nd, 5-8pm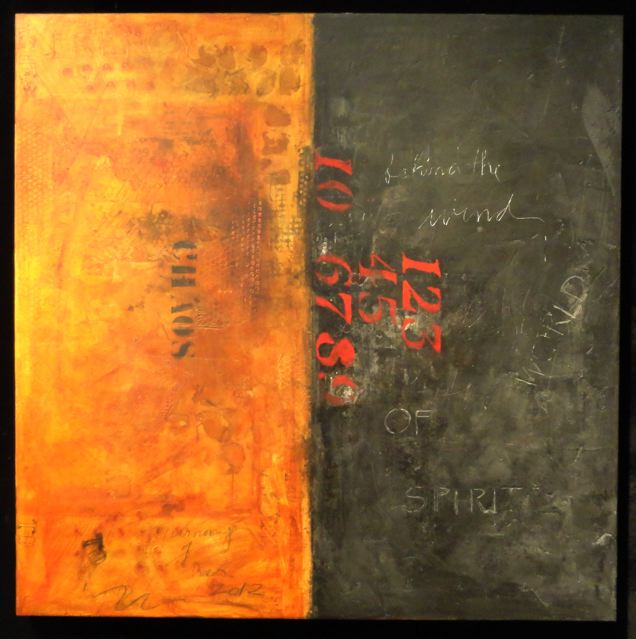 Patricia Wheeler
10th Moon Harmony of Bees
limestone clay on board with acrylic paint and cold wax
48″ x 48″ x 3″
Åarhus Gallery is pleased to have as their guest artist for the month of August, Patricia Wheeler of Deer Isle. The show titled 'Reciprocity' runs from July 30th through September 1st. Please join us for an opening reception Friday August 2nd, 5-8pm.
Patricia Wheeler's mixed media paintings are the perfect object because they feel just right, in a way, essential. Her colors are confident and organic, beautiful, but of necessity not pretty. As if there could be no other color that works for that shape in that space: familiar and comfortable to the eye experienced in the journeys of old souls. Patricia's handsome textures are carried through lovingly and though they're sometimes scratched, or excoriated like petroglyphs, they speak of groundedness and humanity, and so as in archeology, we come to know ourselves through this well handled surface. An image of a boat, a raven, a person, things we understand easily… numbers and words inscribed can become the personal details, or the mystery to the story of life and spirit. And there are lines to rely on; a useful limitation maybe, and patterns to remind us of a recurring thought, that feeling we remember of an object gone by that we connected to sometime before in our lives, that felt … just right. Patricia says of her work: "Through mixed media painting, I explore concepts of human interaction with the earth. My search is spiritual…."
Patricia graduated from Rutgers University with high honors in studio art and has since exhibited in New York, Philadelphia, Boston, Santa Fe, Oregon, Florida and Maine. She has taught at the Haystack Mountain School of Crafts and the Center for Maine Contemporary Art, as well as in Oregon and Wisconsin. She has been selected for numerous artist residencies including at the Sitka Center for Art and Ecology in Otis Oregon and the Oregon College of Art and Craft in Portland. She lives and works in Deer Isle Maine with her husband J. Fred Woell.
Also showing will be the work of Aarhusians Kevin Johnson, Mark Kelly, Richard Mann, Wesley Reddick and Willy Reddick.