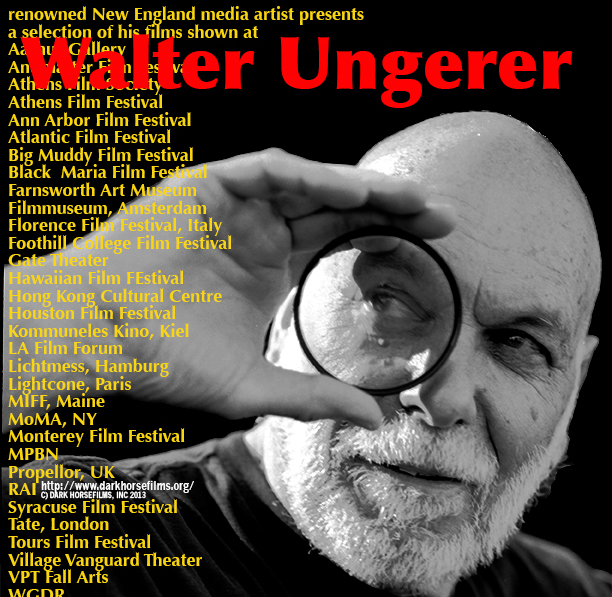 Saturday April 26, 2014 at 7:30pm
Please join us for an evening of experimental film with Camden filmmaker Walter Ungerer Saturday April 26 at 7:30pm, with a Q&A after the show. Admission is sliding scale $5-$10 with light refreshments.
Walter Ungerer was born in 1935 in Harlem, New York. He is a longtime filmmaker with an international reputation. Beginning with the underground film scene of NYC in the early 1960s, Walter continues with
his experimental short films, videos and features to this day.
With fifty years of filmmaking, video, computer, and media experience, Walter Ungerers' works have been well received at festivals and competitions throughout the world, to name a few: the Florence International Film Festival, the Tours International Film Festival, France, the Athens International Film Festival (Best Feature Film) and the Atlantic Film and Video Festival, NS, Canada (Critics' Choice Award). He has been honored with special exhibitions at the Museum of Modern Art, New York City and the Filmmuseum in Amsterdam as well as several other impressive venues. He has also received among other grants and awards, an American Film Institute Independent Filmmaker grant and a National Endowment for the Arts Media grant.
Walter's methods have changed somewhat since his early years of filmmaking. At the end of the twentieth century he made the transition to computer editing systems and dslr cameras. Nonetheless, he still relies on an intuitive approach to decision making with a predilection for the themes of nature, earth, the unknown and unknowable.